Shih Tzu Allergies:
12 Best Dog Foods For Allergies
WRITTEN BY MOLLY | EVERYTHINGSHIHTZU.COM

This post may contain affiliate links. Read privacy & disclosure policy for info

Your Shih Tzu is part of your family, so when you see your little furbaby constantly scratching and in obvious discomfort you may be wondering what's going on.
It could be an allergic reaction to his food.
Dog food for allergies
One of the biggest culprits when it comes to Shih Tzu allergies is the dog food that your pup eats.

Fortunately there are commercial dog foods specifically made for dogs that suffer from allergies.  And changing his diet may be just what he needs to get back to his normal happy self, minus the constant itching and scratching.
Here are 12 of our favorite brands of dog foods for Shih Tzu with allergies:

If your Shih Tzu has developed an allergic reaction to her food, your first instinct is probably to change her diet.
This makes total sense!
However, changing her diet is not something that can't just be done over the course of one or two meals; it must be done gradually, or you may find yourself with a very unhappy dog with a very upset stomach.
Read on to learn more about the dog foods that may help to alleviate your Shih Tzu's allergies and the best way to introduce those foods to your pup!
Best Dog Food for Shih Tzu with Allergies
Finding the dog food that works the best for your pet may take a few tries, but here are some great options to get you started and why it's on our list of best dog food brand for allergies:

1. The Farmers Dog 

It's not just a cute name, but inspired by their belief that the longest-living dogs throughout history have been farm dogs. Their motto is "smarter, healthier dog food."

If you like the idea of healthy, fresh homemade food for your dog but lack the time and know how to prepare it yourself, The Farmers Dog is a great alternative. 
The Farmers dog food is freshly prepared in a USDA-approved kitchen and customized for your dogs breed, age, activity level and sensitivities and conveniently delivered right to your door when and where you want it, pre-portioned and ready to serve to your dog.  Super convenient, right?
All their recipes are simple in nature with human grade ingredients with no preservatives and formulated by board-certified vet nutritionist to be 100% complete and balanced.
It's clean protein mixed with simple produce and balanced with vitamins and minerals according to AAFCO standards. This means you don't have to worry whether your dog is getting the nutrients they need.
The down side is it can get expensive especially for larger breeds. Plans start at $2/day depending on how much and how often you feed your dog.
Although to cut down on costs you could feed Farmers Dog every other meal and use another dog food in between.
"There's a big difference between surviving and thriving" says The Farmers Dog and we couldn't agree more.
Your dog can and will survive on lower quality dog food ingredients, filled with preservatives, but you won't get the many benefits that a higher quality ingredients and freshly prepared food has on your dog, which may include clearer eyes, shinier coats, brighter teeth, healthier skin, less allergies and more energy.
Check out The Farmers Dog website, read the FAQ's and reviews and see if this is right for you. 

2. Merrick
This dog food has been going strong since 1988, mainly due to its use of quality ingredients while keeping its prices affordable.
Merrick offers several varieties of dog food, including several grain-free options.
The main focus of this brand is good nutrition, and it uses human-grade food in its products.
The food is made in Texas, and in 2015, the company was bought by Nestle-Purina.
Some people chose to switch to a different brand at that time, only because they didn't want to buy their food from a pet food giant, but Merrick promised they would keep their production and standards the same as before the takeover. 

You can find Merrick dog food brand at your local pet store, or you can buy it online.
Read what others are saying about Merrick dog food on Amazon.
3. Fromm
This Wisconsin-based, family-owned pet food company has been dedicated to animal health and nutrition since 1904.
In fact, they developed the first canine distemper vaccine in 1930!
The company was the first to develop the process of cooking meat and grain together to make dry kibble, introducing the concept of premium pet food in 1949.
The company offers a very wide selection of artisan pet foods, including multiple grain-free varieties.

You won't likely find this brand on your grocery store shelves, but your local pet store may carry it.
Or you can have it delivered right to your door when you buy "Fromm" Amazon.
4. Candidae
This company offers several unique grain-free dog foods, including one specifically for sensitive small dogs, the Grain Free PURE Petite formula.
Independently owned and operated from its beginning in 1996, this family-owned company is committed to using quality ingredients in all of its products.
Canidae has even recently started partnering with US farmers to grow a variety of different vegetables and crops, like peas, milo, and millet, instead of the usual mass-market options such as wheat and corn.
Read what others are saying about Canidae dog food on Amazon.

5. Honest Kitchen
Honest Kitchen pet food concentrates on delivering 100% human-grade ingredients in their products.
They stand by their commitment to deliver safe and healthy food for your pet and offer a large selection of options since every dog is different and has varied needs.
Their website features a pet food selector so that you can match-up which of their types of dog food is the best choice for your particular pup.
They follow a strict protocol when it comes to sourcing their ingredients; vendors must provide proof of food origins, and the company only uses food from those that they know and trust.
Read what others are saying about Honest Kitchen dog food and treats on Amazon

6. Science Diet
Hill's Science Diet has been providing quality nutrition for animals for decades.
Their focus is that good nutrition is the cornerstone of veterinary medicine; without proper nutrition, an animal cannot live to its fullest potential.
The company continually researches the best ingredients and processes for making perfectly balanced pet food; so your furry friend gets all of the nutrients she needs, without all of the extra stuff she doesn't.
They offer many different varieties of dog food so that you can find one that is sure to match your pet's individual needs.
You may find this at your Vet's office, but if not, you can always find it online.
Read what others are saying about Hill's Science Diet on Amazon
7. Wellness Simple
Since the 1990s, Wellness Simple has focused on limited-ingredient dog food, keeping things simple and natural.
Their products are made solely in the USA and every ingredient is chosen for a purpose, with special consideration for dogs with sensitivities.
The recipes include a single source protein, easily digestible carbohydrates, and no extra fillers or additives.
All of the foods are free of gluten, wheat, and fillers and are designed to completely nourish your pup from the inside out.

Visit the Wellness dog food and treats store to learn more
8. Canine Caviar
Canine Caviar's single protein dog food aims to be the closest way to how a wolf would eat in nature.
The brand offers the first, and only, ALKALINE dog food, which emphasizes the importance of the pH levels in the body.
It stresses how important it is for acid levels to be just right in order for the body to effectively carry out its different processes, such as digestion, oxygen transportation and more.
Canine Caviar uses herbs and key ingredients, in conjunction with special processing to create an alkaline diet, which helps with many issues, including allergies.
Visit the Canine Cavier store online to learn more.
9. Royal Canin Veterinary Diet
Since 1968, Royal Canin has stressed that health comes from nutrition.
The company collaborates with veterinarians, behavioral experts, and pet owners worldwide to continually research and develop the best foods for the unique needs of today's pets.
The brand features multiple options to help you find the best fit for your pet, and only uses the highest quality ingredients from trusted and rigorously tested sources.
If you're Vet doesn't have it, visit the Royal Canine online store at Amazon.
10. Earthborn Holistic Venture
This company offers an excellent variety of grain-free holistic dog foods that contain premium proteins and carefully selected fruits and vegetables.
The recipes are also rich in Omega-3's and Omega-6's, probiotics, vitamins, and minerals.
The company focuses on quality ingredients and a balanced approach to nourish the whole pet, aiding in digestive health, joint health, food sensitivities, and much more.
See what others are saying about Earthborn dog food and treats on Amazon
11. Brothers Complete
Brothers is a family business, based out of Ft. Lauderdale, that focuses on creating the healthiest dog food possible.
They have four formulas, three of which are dedicated to dogs with allergies, their Advanced Allergy dog food.
The company began when pet store owners realized the effects that different high-end dog foods were having on people's pets.
Brothers' dog foods contain no grains or potatoes, and they create their food in small batches, which means fewer nutrients are lost in the process.
If you can't find it locally, you can buy Brothers Complete dog food online.
12. Tuscan Natural
Tuscan Natural is known for providing unique ingredients that many other dog food companies haven't thought of, like Olive Oil and CBD Oil, to name a few. 
Using Olive Oil was inspired by a trip to Italy (which also inspired the name for the company) after they realized that it was a natural way to promote protein absorption. 
This results in better digestion for your pet, combined with better metabolizing which leads to more energy. 
CBD Oil is making waves in the human supplement world, and Tuscan Natural has realized that the product is good for pets too, making it available in a variety of their dog foods and treats.
Does this sound good to you?  Pick some Tuscan Natural dog food for your pup today.
When it comes to specific dietary requirements, every pup is different!
Food allergies can be highly individualized and must always be taken into account when selecting the right food for your fur-baby.
Keep this in mind as you explore various options - chances are there's a brand out there tailored specifically to their needs.
Having a good healthy dog food for your pets' individual needs can be the best way to curb their allergies.
But, let's find out why dogs develop allergies in the first place.

Why Dogs Develop Allergies To Their Food

A Shih Tzu with allergies can often find great relief with a change in diet.
Sometimes allergies can be triggered by certain ingredients in dog food, such as grains or other byproducts. 

It is important to note that there has been some negative research associated with the effect of 100% grain-free diets on pets' hearts, especially small dogs, so always consult a vet before making a diet choice.
It is essential to remember that just like humans, each dog is unique and therefore will have different needs.
What is good for one dog may not be the best choice for another. Therefore, always know your options.
Sometimes eating the same food for an extended period of time can actually cause an allergic reaction.
This may seem strange, but there's a simple explanation for it: dogs develop allergies to specific proteins and other ingredients over time because when a dog eats the exact same thing every day, his body becomes less equipped to break down certain proteins.
When this happens, the dog's body starts to identify the ingredient as harmful, and therefore, creates antibodies to fight against the offending food.
It is this process that causes the symptoms we identify as allergies.

When it comes to finding a dog food that works for your pup, and your pup's allergies, there are usually a couple of different categories of foods that work the best: limited ingredient foods and "hypoallergenic" foods.
Limited ingredient diets do just as their name implies, they limit the number of ingredients used in the food.
This makes it a lot easier to pinpoint what specific ingredient your dog might be allergic to.
You can get food like this over the counter at pet stores, individual dealers or online.
Hypoallergenic dog foods are usually prescribed by a vet, but some can also be purchased directly online from certain companies or through subscription plans.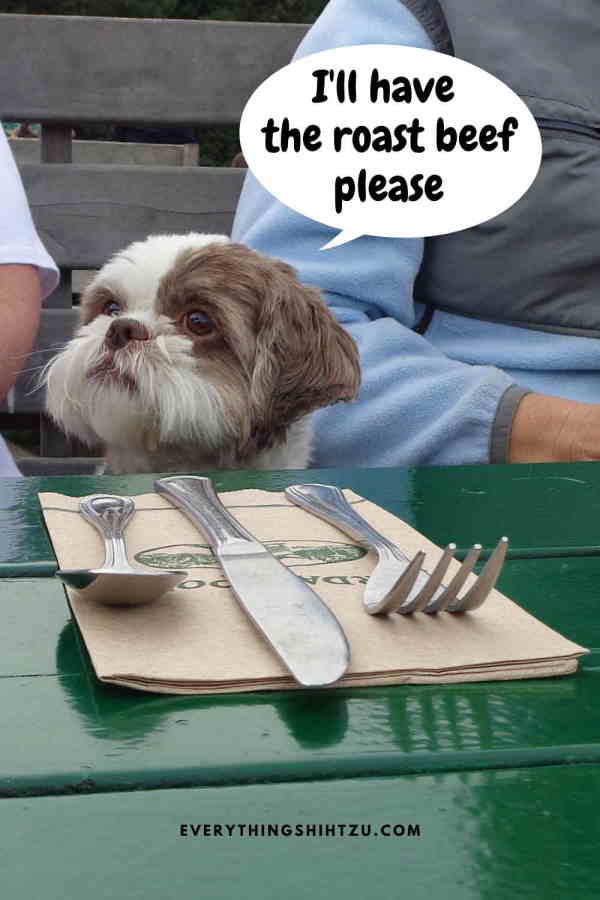 Most of these types of food are made by using proteins that have been chemically split, which makes the original allergen almost completely undetectable to your pet's immune system.
If your dog's immune system can't "see" the potential threat, then it has no need to create the antibodies to fight it, which as mentioned earlier, is the process that can trigger an allergic reaction.
Luckily, there is more awareness today of how nutrition plays a role in animal health.
Thanks to research and studies of how different foods and products affect animals, there is a wide variety of options available to suit the unique needs that exist in pets today.
Many times, if your Shih Tzu is suffering from allergies, or a food intolerance, a simple change in diet can make all of the difference.
Before you make the switch to one of all of these dog foods, you may want to know if your dog even has allergies.
How Do You Know If Your Shih Tzu Has Allergies?

If you are unsure if your Shih Tzu has allergies, there are several signs to look out for; many of which resemble seasonal allergies.
Symptoms like:
severe itching
biting at the skin
hot spots or even bald patches can be a red flag that your pooch is suffering from allergies. 
If your Shih Tzu is allergic to a certain food, he may or may not have some mild diarrhea or even vomiting, but this is not always the case.
In fact, if your dog seems to always vomit or have diarrhea after eating a certain food, then this may signal food intolerance as opposed to a food allergy.
Food allergies can sometimes manifest themselves as different skin disorders, but the only way to truly diagnose a food allergy is with proper testing by a veterinarian.
If you believe your pup has a food allergy, the best course of action is to consult with your vet.  Your vet can help distinguish between if your pet is experiencing a food allergy or food intolerance.
A food allergy is caused by an actual immune response, where food intolerance stems from a digestive problem.
If your vet does suspect a food allergy, the likely starting point will be a change in diet and trying to zone in on the offending food; steering clear of foods that contain the most common allergy culprits:
artificial additives, 
chemical preservatives, 
and fillers such as corn or soy.
If you decide that a change in diet is needed, it is critical to make the switch properly to avoid any potential issues (see the next section.)
Of course, if your Shih Tzu is actually the victim of food intolerance, a diet change will also be the most likely course of action.
Either way, before you can choose the best dog food for your dog, your first step needs to be finding the problem.
Once you and your vet have zeroed in on the cause of your dog's issues you will be better prepared to design a treatment plan that will work best for your dog.
Before making changes to your dog's food, you should know that sudden changes in your dog's diet can cause them to have an upset stomach. 
To avoid the temporary discomfort in your dog's tummy, read our advice first.
What is the Best Way to Switch Dog Foods?

Even though eating the same food for an extended period can also be a cause of food allergies, this doesn't mean you can just switch your dog's food at any time.
If you abruptly switch foods, in other words, your Shih Tzu eats her normal food in the morning and then all of a sudden has a full bowl of different food that night, then there will most likely be some unpleasant consequences.
This is usually true for any dog breed really.
The biggest issue with a sudden change in diet is upset stomach and diarrhea.  Your dog can get severe tummy troubles if a new food is introduced suddenly.
The best way to introduce a new food to your dog is to do it gradually over several days.
You will want to serve a combination of her old food and the new food, reducing the amount of old food as you increase the amount of new food in each serving.
For example, removing about a tablespoon of her old food and replacing with a tablespoon of the new food in the first combo serving.
In the next combo serving you might do two tablespoons, and so on.
Do this over a few days until you have reached the point where you are only putting the new food into the bowl.
This will help your pup (and her stomach) adjust to the new food.
Once your canine pal is eating only the new food for a few weeks, you will be able to see if it has made a difference in her allergies.
If there is no difference, consult with your vet for other possible issues, or it could just mean you need to try different food.
If you do decide to switch again, follow the same process.
Keep in mind that using a limited diet dog food can be helpful in discovering which foods might be triggering your Shih Tzu's allergies.
For more helpful information about how to take care of your Shih Tzu check out the rest of our blog!
We're always adding great tips and resources so that you can do the very best for your best friend!