Best Collapsible Dog Crates For Small Dogs
BY MOLLY | EVERYTHINGSHIHTZU.COM

This post may contain affiliate links. Read privacy & disclosure policy for info

Some dogs, especially small ones like Shih Tzu, will feel more relaxed and safe while in a crate -- it's their own familiar and comfortable place.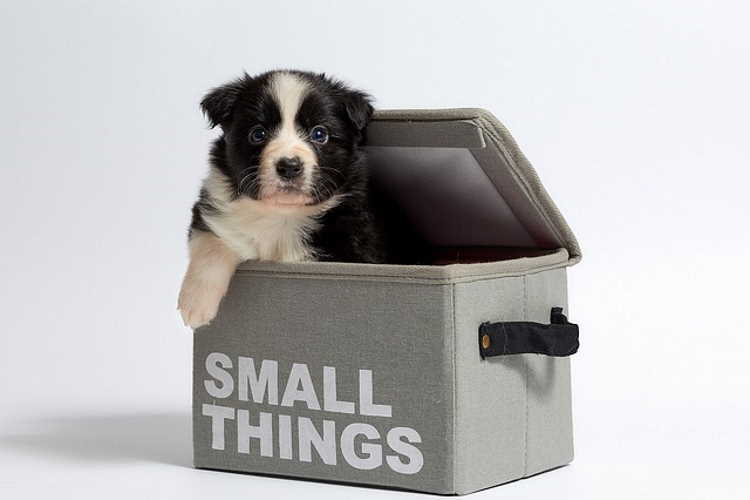 Not all crates are made the same
And many people will choose to use hard kennels as their dogs den, but these can be clunky and uncomfortable for your pet, especially if you want to pack it for a road trip.

That is why a collapsible dog crate for your K-9 companion would make an excellent addition on your next trip!
Collapsible crates are great options because they are lightweight, comfortable, and easily packable!

Here are 3 great collapsible crates for your small dog.
Petnation Port-A-Crate
Midwest Homes Dog Crate
Arf Pets Soft Crate
Collapsible crates for small dogs
To help you make an informed decision on what type of folding dog crates will be best for your dog, we've picked out three of our favorites to examine.

1.  Petnation Port-A-Crate
What's good about it:

It weighs a very light 6.15 pounds
It is collapsible.  It requires no tools or parts to fold or collapse
It uses heavy-duty mesh windows that allow air to flow and provide comfort
It is water-resistant and easy to clean
The Petnation Port-A-Crate is the one that my own dog has been using for years.
We bought it specifically for traveling, and chose it because of its good reviews.  We were not disappointed.
Max, likes this crate more than his brother Rufus because it is more of an enclosed space and reminds him of his favorite hiding space at home -- under the bed!

We bring it with us when we will be staying someplace overnight, since it comforts our little furbaby to have a place to go where he feels safe, plus he seems pretty comfortable sleeping in it.

The Petnation Port-A-Crate is a great choice for smaller dogs who love comfort and security, but if your dog needs more visibility, you might want to consider other options, like our next favorite option.

2.  Midwest Homes Dog Crate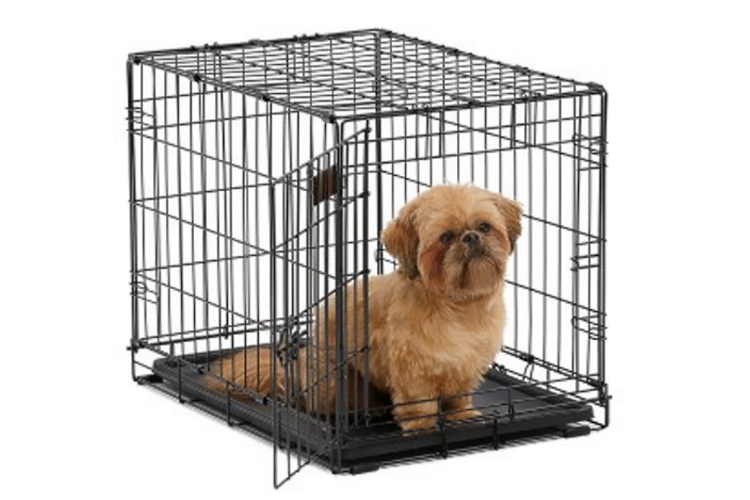 What's good about it:

It is tough.  If you have a rowdy dog, this one will last him a long time.
It allows full 360° visibility.
It is easy to assemble and break down and does not require any tools.
It is easy to clean. It will dry quickly since it is not made up of water-absorbing fabrics.
Its' double door versions come with a divider.  Two of your little friends can travel in the same crate, but can also have their own space if they need it!
The MidWest Homes iCrate is a great solution for dogs who get anxious when they can't see what's going on.  Rufus doesn't like it  when he can't see what's going on and gets whiny when confined when there is less visibility, but with this crate he is definitely more relaxed.
If your dog cries while in his crate, try the iCrate.
If your planning on being outside with your pups check out the MidWest Foldable Playpen.  Your dogs can be outside enjoying the fresh air while being safely off leash and still run around and play.

Although setup and breakdown do not require any tools, it is not as simple as other options that simply collapse.
If that's not your thing, then the first option may be better for you, or perhaps you should consider this third one.

3.  Arf Pets Soft Crate

What's good about it:

It features three entrances, allowing a lot of versatility for interacting with your dog while she's in her crate, such as feeding or petting. 
It has large heavy-duty mesh windows.
It is easy to clean. The fabric is water resistant and the base is removable. 
It is collapsible and requires no tools to set up or break down. 

The Arf Pets Soft Crate comes with a bit of a higher price tag, but it has a great balance of the features that we like in the first two options. 
It is comfortable and lightweight, allows a medium range of visibility, and is easy to collapse and set up.

5 Things To Know Before Buying a Dog Crate
When it comes to choosing the right crate for your dog, convenience isn't the only aspect that should be considered.
These 5 things are as follows:
Size
The first and most practical factor to consider is if the crate is the right size for your dog.
Most manufacturers provide size specifications and give advice on how to measure a dog for sizing.
Make sure you measure for comfort too.
Your dog's crate should leave her with some space to stand or adjust her position.
After all, you wouldn't want to travel in a cramped box all day just because you simply fit in it!

Weight
Hard kennels are generally heavy, and while some folding dog crates can be heavy too, most are pretty light.
Also, check the folding crate's weight specifications to make sure it can hold your dog.
Small dogs, like Shih Tzu, usually don't have a problem with being too heavy for a crate!

Comfort
The level of comfort required for your dog's crate depends on your dog. 
We think it's best to err on the side of comfort, even if your dog isn't particularly a diva. 
Some crates do not come with any soft sides or padding. 
If the crate you like is not padded but has a hard resting surface, consider getting a dog bed or blankets to provide comfort. 
However, make sure you don't sacrifice too much space and make the crate cramped!

Visibility
Some dogs are more comfortable being in a crate if it offers a lot of visibility.
Others prefer a more enclosed space.
Consider your dog's personality and what she would prefer.
If you'll be traveling in public spaces, like an airport, consider how visibility will affect your dog's behavior in these places as well. 

Durability
If you have a rowdy dog, a soft folding crate may not be the best option.
Fortunately, not all folding crates are made of fabric.  Some are more heavy-duty and able to stand the test of chewing or scratching.

---
Now that you have a better idea of what to look for in a folding dog crate, you are more prepared to make a decision!
Again, think of who your dog is and what kind of space she will feel most comfortable in, and think of what will be easiest for you to set up and to pack away.
Happy crating!