Shih Tzu Dog Blog
**Read the CDC statement regarding the Coronavirus (COVID-19) and pets**


Welcome to the Shih Tzu Dog Blog!
Keep up to date with the latest articles, tips and ideas.
Just scroll down, find a recent headline that interests you and click. You will get full, immediate access to that page.
To subscribe to the Everything Shih Tzu RSS feed (no email address required!) just click on the orange RSS button on the right and simply copy and paste the URL into your RSS reader. If you're new to RSS, find out more by clicking the blue link (below orange RSS button) entitled 'what's an RSS Feed?'.
Does Your Shih Tzu Have An Eye Infection? How To Tell and What To Do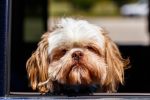 Knowing how to tell when your Shih Tzu has an eye infection will keep your dogs vision remain healthy. Know what to look for, what to do and how to avoid it
Continue reading "Does Your Shih Tzu Have An Eye Infection? How To Tell and What To Do"
---
Stay Informed With The Tzu !

Get the latest and greatest dog care tips, ideas and information delivered right to your email when you subscribe to our free monthly newsletter "The Tzu"
Your privacy is important to us and we promise to use it only to send you Everything Shih Tzu news and updates.
---
By now, we are all be aware of the dangers of the Corona Virus (COVID-19) and how it spreads from human to human, but what about pets?  
This is what the CDC has to say about it:
"The CDC hasn't received any reports of pets or other animals becoming sick with COVID-19, and no evidence that companion animals (pets) can spread COVID-19. 
However, if you are sick with COVID-19, you should restrict contact with pets and other animals, just like you would around other people"
Read more about pets health on the CDC's healthy pet website