Seasonal Allergies in Shih Tzu Dogs
**Read the CDC statement regarding the Coronavirus (COVID-19) and pets**
MAY 31, 2019 | WRITTEN BY MOLLY
Seasonal allergies in dogs are not uncommon.
If you've noticed your Shih Tzu itching a lot when the seasons change, this could be a sign that he has sensitivity to airborne allergens known as atopy.

Yup, just like people, your sweet little angel can suffer from allergies too.

Seasonal allergies in dogs usually manifests with very itchy skin around their eyes, mouth, armpits, stomach, inner thighs, feet and bum area.
You may also find that he is getting ear infections more often too.

In other words, they will be quite uncomfortable in their own skin.

Vet's Best Seasonal Allergy Support supplement for dogs can give relief during these peak allergy season flare ups.

What is Vet's Best Seasonal Allergy Support

Vet's Best Seasonal Allergy supplement is a chewable tablet which uses key natural ingredients supporting normal histamine levels and skin health for your dog.
These key ingredients are nettle leaf extract, perilla leaf extract, quercetin and citrus.

Nettle Leaf is an herb which supports normal histamine levels.


Perilla leaf extract, also an herb, is used as an antioxidant, anti-allergic, and anti-inflammatory.


Quercetin also has antioxidant and anti-inflammatory effects.


Citrus Bioflavonoids is used for antioxidant protection, circulatory healthy and immune system support.

Other ingredients include a proprietary fish oil blend containing Omega fatty acids, Brewers Yeast, Chlorella, Spirulina, Bee Pollen, Soy Lecithin, Rosemary Extract and Dunaliella Salina (Sea Algae Extract)

Inactive Ingredients: Cellulose, Lactose, Natural Flavor, Stearic Acid and Silicon Dioxide.

Why I Like This Supplement For Seasonal Allergies In Dogs

What I like about this supplement is that it was created by a veterinarian and it contains natural ingredients which help support their immune system, and not loaded with chemicals.
Also it's a soft, chewable pill, so it's easy for them to eat.

Since my Shih Tzu are small they only need to take half a pill once daily, and these supplements are easy to break into pieces with only my fingers.

What I don't like about Vet's Best Seasonal Allergy Support?

Okay, first let me say I don't usually go around eating my dog's food and stuff, but I was curious, and all I can say is yuck.
It's rather earthy tasting for lack of a better description.

But I am not the one eating it, my dogs are and they seem to like it.  I don't have to hide it in other food to get them to take it.

Also it isn't instant relief, you'll have to give them the supplement for a few days before seeing results.
But overall, I really didn't find anything not to like about this supplement.

I've seen considerable improvement in my dogs in the short time they've been taking it. Especially Rufus who suffers from severe seasonal allergies.

Their hot spots are basically gone, so no more hot, red bumpy skin.  And the itching has ceased quite a bit. 
Also, since they aren't scratching themselves all night long, I can get a good nights sleep too.

My only regret is that I didn't find this allergy supplement sooner.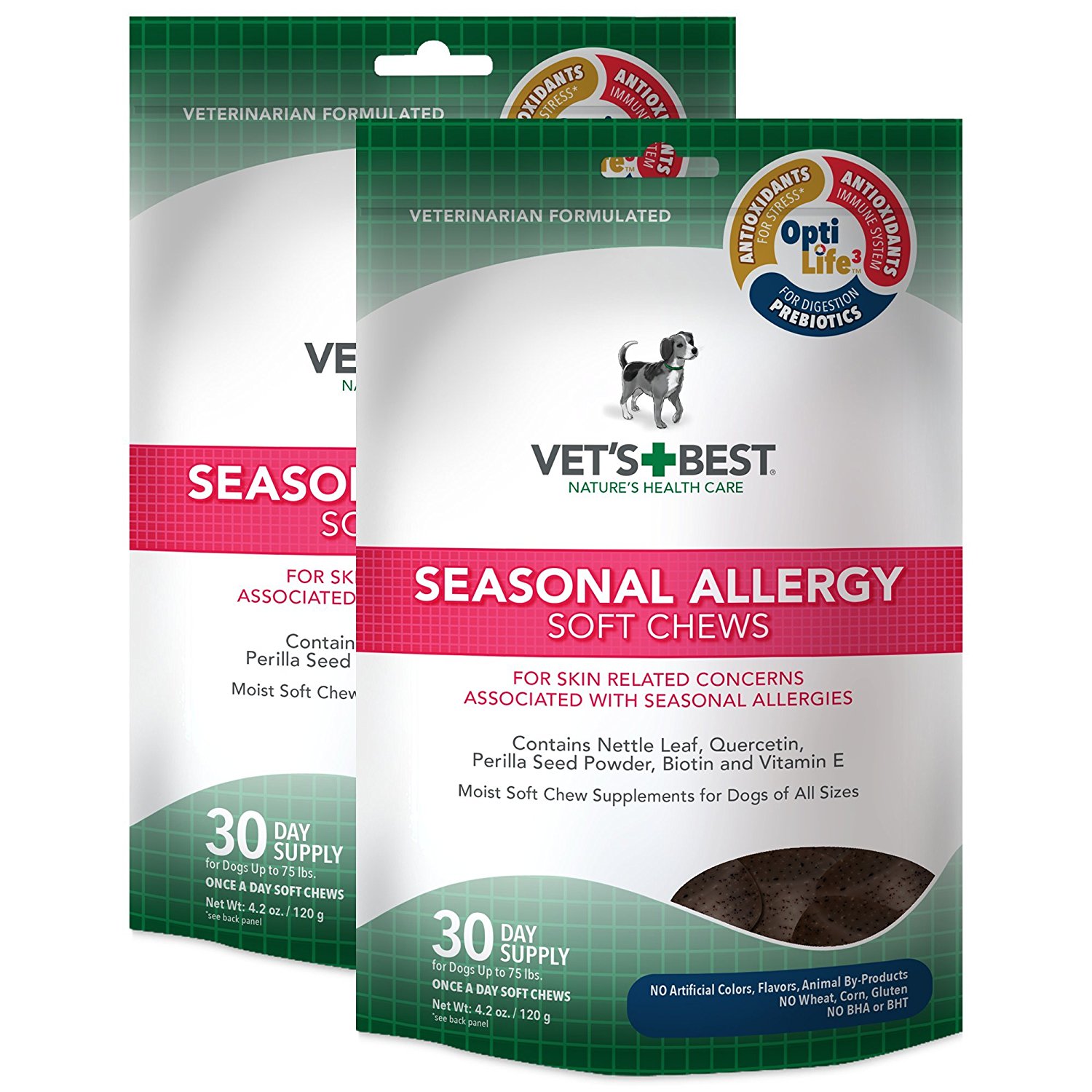 Available on Amazon
Help your dog ease their seasonal allergies.  Click to order now

Allergy supplement
---
Stay Informed With The Tzu !

Get the latest and greatest dog care tips, ideas and information delivered right to your email when you subscribe to our free monthly newsletter "The Tzu"
Your privacy is important to us and we promise to use it only to send you Everything Shih Tzu news and updates.
---
By now, we are all be aware of the dangers of the Corona Virus (COVID-19) and how it spreads from human to human, but what about pets?  
This is what the CDC has to say about it:
"The CDC hasn't received any reports of pets or other animals becoming sick with COVID-19, and no evidence that companion animals (pets) can spread COVID-19. 
However, if you are sick with COVID-19, you should restrict contact with pets and other animals, just like you would around other people"
Read more about pets health on the CDC's healthy pet website