Can Shih Tzu Cause Allergies? There Is Always a Possibility
JULY 18, 2019| WRITTEN BY STACY
**Read the CDC statement regarding the Coronavirus (COVID-19) and pets**
In the United States, up to 3 in 10 people with allergies have allergic reactions to dogs and cats.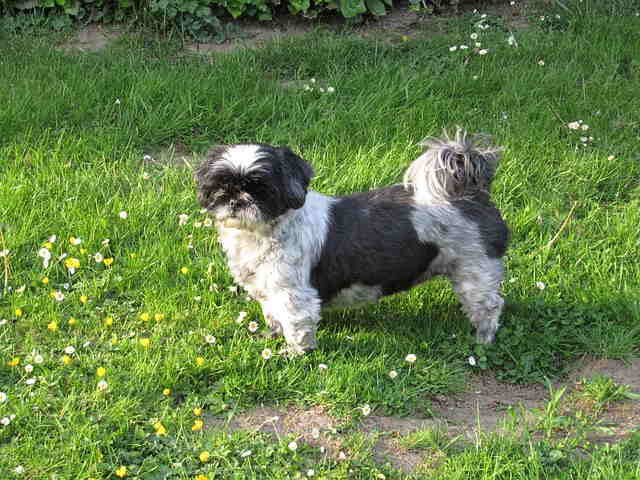 There are several dog breeds that claim to be "hypoallergenic," including Shih Tzu, leading their owners to wonder, can Shih Tzu cause allergies?
The fact is, according to the Asthma and Allergy Foundation of America, there is no such thing as a non-allergic pet.

Shih Tzu can cause allergic reactions in people, but they are still a good choice for allergy sufferers.  This is because their hair-like double coat tends to hold on to most of the hairs that it sheds.
This limits the spread of pet dander, which is the actual cause of allergic reactions.

If you suffer from a dog allergy, but you still desperately want your own furry canine companion, then a Shih Tzu can offer a good solution.
Many people believe this is because Shih Tzu do not shed.
However, this is not the case. Shih Tzu actually do shed, so then why exactly are they such a good option for dog owners with allergies? 

How Do Shih Tzu Cause an Allergic Reaction?

A Shih Tzu has a beautiful hair-like double coat, that any Shih Tzu owner will tell you takes dedication to maintain.
"Although they are indeed a great pet choice for allergy sufferers, to say they are a non-shedding dog breed isn't entirely accurate."
Shih Tzu often give the appearance of not shedding their coat because when hairs come loose, they often get stuck in the double layer rather than falling onto other surfaces.

The reality is, even if Shih Tzu were a non-shedding dog breed, that is no guarantee against allergic reactions.
Many people are under the common misconception that people with dog allergies are allergic to dogs' fur.
Therefore, they believe that if a dog doesn't shed that makes it hypoallergenic.  This simply is not the case.  Dog fur and dog hair are not considered allergens.

If a person has a dog allergy, his immune system reacts to proteins in dogs' urine, saliva or dander.
No matter what breed a dog is, it has all of these things.
Therefore, every dog has the potential to cause an allergic reaction, including Shih Tzu.

An allergic reaction to your Shih Tzu is caused in the same way.  It is your immune system's response to these proteins.
These proteins are harmless in and of themselves, however, the allergic reactions that they cause can range from mild to severe.

Your immune system is supposed to zero in on foreign substances in your body in order to protect you from diseases.
People with allergies often have over-sensitive immune systems, which is why they react to these harmless substances that animals leave behind.

If you have an allergic reaction to your pet, it is not because of its fur.  Pet hair is actually not an allergen (a substance that causes allergic reactions).
Pet hair is, however, an excellent collector and transporter for pet allergens, as well as other allergens like dust and pollen.

When a dog sheds its hair, the hair can collect on furniture, bedding, carpet, clothing and more, and the allergens that are in the hair can remain on these surfaces for months at a time.
Plus, these same allergens can also become airborne when surfaces that contain them are dusted or vacuumed, a person pets an animal, shakes out a piece of clothing that contains pet hair, and various other activities.
Once the pet allergens are airborne, they can remain in the air for long periods of time.

How Do You Know if You're Allergic to Your Shih Tzu?

Maybe you already have a Shih Tzu, but you are not sure if you have a dog allergy.
Perhaps you have not had a reaction before, or have not been exposed to many dogs.
If you suspect you might have a dog allergy, of course, the only way to know for sure would be through allergy testing and diagnosis by a doctor.

There are some signs you can look for, however, that can give you a heads up to a potential dog allergy.
The usual signs are a stuffy nose and red, itchy eyes.  This is because allergens can land on the membranes inside your eyes and nose and cause them to swell and itch. 

If a dog licks or scratches you and the skin in that area becomes red and itchy, this can also signal a potential allergy.
Reactions can range from mild to severe, and if they are very mild they might take days to show up, causing you to not even link the reaction with your pet.
More severe reactions can cause breathing problems, rashes and may require immediate medical attention.

What Can You Do to Help Minimize Allergic Reactions to Your Shih Tzu?

If you discover that you have a dog allergy and your Shih Tzu causes an allergic reaction, your first response might be despair.
After all, your dog is your furry family member.
The last thing you want to do is to even consider getting rid of your Shih Tzu.  Luckily, Shih Tzu are a dog breed that cause minimal allergic reactions due to the nature of their silky coats.

Here are a few other things that you can do to help minimize allergic reactions to your Shih Tzu:

As much as you might like to snuggle with your pup at night, it is best to keep your Shih Tzu out of your bed. You spend a lot of time in your bed, and it is full of places that pet allergens can cling to and hang out for months. If possible, try to keep your whole bedroom off-limits to your Shih Tzu.


Allergies are not fun and they can impact many different areas of a person's life. In fact, allergies don't just plague humans. Dogs can also get allergies, even to their own dog food, which you can learn more about in our article "Common Dog Food Allergies in Shih Tzu" 

If you are a dog lover and suffer from a dog allergy, owning a Shih Tzu can be an excellent solution.
Follow these tips above to reduce your allergy symptoms, and hopefully, this article gives you some hope that you can still keep man's best friend in your life and in your home.

Shih Tzu and Allergies
---
Stay Informed With The Tzu !

Get the latest and greatest dog care tips, ideas and information delivered right to your email when you subscribe to our free monthly newsletter "The Tzu"
Your privacy is important to us and we promise to use it only to send you Everything Shih Tzu news and updates.
---
By now, we are all be aware of the dangers of the Corona Virus (COVID-19) and how it spreads from human to human, but what about pets?  
This is what the CDC has to say about it:
"The CDC hasn't received any reports of pets or other animals becoming sick with COVID-19, and no evidence that companion animals (pets) can spread COVID-19. 
However, if you are sick with COVID-19, you should restrict contact with pets and other animals, just like you would around other people"
Read more about pets health on the CDC's healthy pet website