10 Ways to Stop a Shih Tzu from Barking at Night
BY MOLLY | EVERYTHINGSHIHTZU.COM
This post may contain affiliate links. Read privacy & disclosure policy for info

Shih Tzu are adorable and make wonderful canine companions, but they may not be as cute when you are up all night listening to them bark constantly.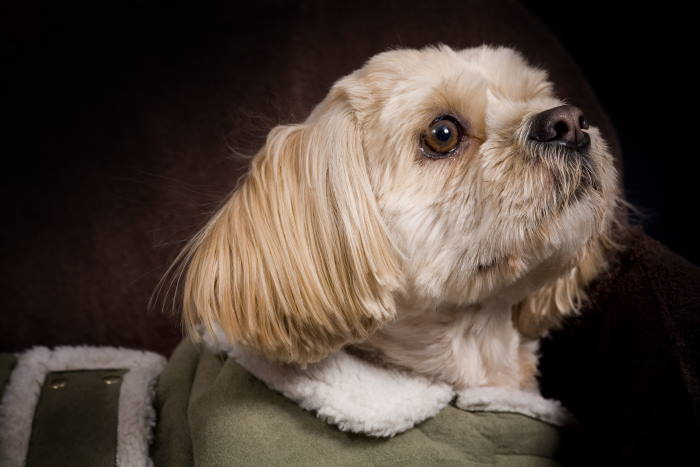 If your furry friend is causing you countless sleepless nights with his non-stop doggy banter, then you may be feeling less than pleased with his presence.
You don't have to start investing in earplugs; you just need some tips that you can use to get your Shih Tzu to stop barking at night.
So how do you know what techniques will work for you and your "talkative" pup?
The first step is to, of course, play detective and determine the reason, or reasons, your Shih Tzu is barking at night.
Next, it's time to choose which of the following actions are the best options for your specific situation.

How do you stop a Shih Tzu from barking at night?

1.  Figure out WHY Your Shih Tzu is Barking at Night

This is the first step. It's pretty obvious, but is often overlooked when we are frustrated.
It might take a few nights, but you need to put your skills of observation to the test, take some notes and pay attention to find consistencies in what might be the trigger for you dog's nightly barking.
Look for things that seem to happen right before your dog's barking starts and see if they happen each time.
You might discover it is just one thing, or it could be multiple factors causing your Shih Tzu's need to vocalize.
Perhaps your dog does not want to be alone, or he is bored, nervous, or it could be that any noise he hears sets him off on a barking spree.
Whatever the reason, the essential takeaway here is that you have to know what the reason is in order to fix the problem.
If you jump head first into trying out different solutions before you identify the cause, then you are wasting your time and energy.

2.  Minimize Distractions

Sometimes a dog just needs to respond to any and all stimuli.
If your dog sees or hears something, no matter what it is, this can be enough to make him start barking.
If this sounds like your dog's M.O., then as long as your dog can see and hear things, he is going to bark.
If this is the case with your Shih Tzu, then there are things that you can do.

First, is there something new in your dog's sleeping environment? If so, he could still be uncomfortable, or really excited about this new addition.
Perhaps it is an automatic night light, or a motion activated air freshener.
These things may be taken for granted by us, but to your dog they can be very confusing and startling, so remove them from his sleeping area.

To limit the things your dog might see, make sure window shades or curtains are drawn.
This way, he won't spot things that are happening outside, like cars driving by the house.
If your dog is super inquisitive and insists on crawling behind the curtains, then it might be worth investing in shutters, or moving your dog's sleeping area to a location without windows.

If your dog has super sensitive ears and speaks up at the slightest sound, then a good way to curb his barking is the use of a sound machine.
The white noise produced by the machine dampens ambient noise that would otherwise cause your Shih Tzu to bark.

3.  Provide Adequate Activity During the Day

Think about a time that you tried to go to sleep at the end of a day in which you didn't have much to do.
You probably had so much pent-up energy that you had a lot of trouble falling asleep.
You might have even been so restless, that you got up out of bed and started doing other things, like straightening up the house, watching TV, or reading a book.

Well, it is no different for your Shih Tzu.
If your dog does not get adequate exercise during the day, then he will have more energy at night.
Since you most likely won't be playing with him or taking him for a walk once it's bedtime, your dog will let his energy out in one of the only ways he can, by barking.
If too much extra energy seems to be the reason for your dog's nightly noise, then make sure to provide adequate stimulation throughout the day.
Shih Tzu really do not need a lot of exercise, but they do love attention and they love to play.
Be sure to take your Shih Tzu for walks during the day and plan for several chunks of time scattered throughout the day for dedicated playtime with your pup.
This consistent activity will help your Shih Tzu expend his excess energy and also help him receive the stimulation he needs so that he can be better prepared for a calm and restful night.

4.  Introduce a Crate

Shih Tzu that are new to the home, rescue dogs, or that have recently undergone a big life change can experience a high level of insecurity.
At night, these insecurities can increase.
Plus, if your pup's sleeping area is in another room, he can feel very lonely and nervous.
If insecurity seems to be the culprit, a crate offers a good solution.
Providing a crate for your pup gives him a place where he can go inside and feel safe.
The idea here is that the concept of the crate speaks to your dog's inner "wolf," just like wild wolves and dogs have caves that they use as their dens.
The key here is to leave the door of the crate open.
Remember, this is about your pup feeling safe and secure.  If the door is open, he knows that he is not trapped and can easily come and go if he wants to.
Put a comfy blanket or towel inside of the crate and your dog will have a cozy den to retreat to when he is feeling insecure.

5.  Reduce Separation Anxiety

Some dogs suffer from separation anxiety, and when these dogs are apart from their owners they can become extremely anxious.
There are a few things that you can do if separation from you is the cause of your Shih Tzu's barking.
If you are up for it, you can always have your pup sleep with you in your bed, but this is understandably not everyone's preference.
Consider the location of your dog's sleeping area. Is it in another room?
Perhaps you can move it to your room, but keep it on the floor, if bed sharing is not your cup of tea.
If your dog is in the same room with you, this may be enough to ease his anxiety and curb his barking.
Another idea is to give your dog a shirt or other piece of fabric that belongs to you.
Let him sleep with this and keep it in his bed or crate.
Your scent comforts your pet, and if he has your scent close to him then he won't feel as if he is so far away from you.

6.  Don't Yell or Demand That Your Shih Tzu Be Quiet

No matter how frustrated you get with your dog's barking, it's important to resist the urge to yell.
Demanding that your Shih Tzu stop barking is not going to work.
If anything, yelling just sounds like you're barking, too, and your dog will continue to chime in with gusto.
The better option here is to ignore the barking (and your pup).
Whenever your dog starts to bark, turn your back on him.
Do not give any attention to his barking; even negative attention is still attention.
It's just like a testy toddler, if he's acting out don't reinforce the behavior.

7.  Reward Good Behavior

If you're going to ignore the negative behavior, then you need to reward the good behavior.
This is how your pup learns what is acceptable and what is not okay.
Therefore, as soon as your dog is quiet, reward him with a small treat and praise.
The combination of limiting attention when your pup is barking, and rewarding him when he is quiet, will quickly teach your Shih Tzu what behavior is acceptable.
Set up several training sessions throughout the week to work on this with your dog.
Several short sessions will work better than one long one.
It's imperative to be prepared to work with your dog consistently so that you don't get frustrated.
You can't assume that everything will be fixed with one training session or in one night.

8.  Provide a Special Toy Only at Night

Your Shih Tzu could be barking out of boredom.
Even if you provide adequate exercise during the day, your dog may still need something to do.
Provide him with something to do at night during those moments when he gets bored.
Something that may help is a special chew toy or bone that your dog only gets at night.
This serves a dual purpose of giving him something to do, while also making him excited about bedtime.
He will soon equate bedtime with the time he gets his special toy, and he will be so interested in playing with it that he forgets about barking.

9.  Make a Potty Stop Before Bed

If your Shih Tzu needs to go to the bathroom, then she may bark because she needs to go outside.
Some dogs, especially older dogs, are too well trained to go in the house and therefore no matter how desperate they are, they will whimper and cry until you let them outside to go potty.
Make it a priority and part of the nightly routine to make a pit stop right before bedtime.
Older dogs, especially, cannot hold their bladders as long as they once were able to, so take your pup to potty before bed.

10.  Seek out Professional Help

Sometimes, no matter how hard you try, you may find that your Shih Tzu keeps barking.
If you have tried to figure out why your pup always barks and you have attempted the appropriate techniques to try and stop it, then you will undoubtedly be frustrated if the barking continues to occur.
Instead of letting frustration build, or even worse, contemplating a new home for your furry buddy (this is especially a problem if you live in an apartment or other shared housing situation), seek out the advice of the pros.
Your vet might have some thoughts and suggestions that you have not yet tried, or he or she can recommend a trainer that can deliver hands-on help to you and your canine pal.

What About Getting Another Dog?

It's reasonable to think that getting another dog to keep your Shih Tzu company might stop your dog's barking, especially if he is doing it out of boredom or loneliness.
However, this is not a decision that should be taken lightly.
Another dog means more time, effort, attention and money from you.
If you are not prepared to handle an additional pet, or if you don't want another dog, then this is not an option.
Plus, it also depends on your dog's personality; a second dog might not even make a difference when it comes to your Shih Tzu's barking at night.
If you do decide to get a second pet, and are ready for the responsibility that it entails, then by all means go for it.
It could work, or you could end up with double trouble--in other words two barking dogs at night.
If your new dog acknowledges your Shih Tzu as the alpha dog, then whenever your dog barks, your new pup is likely to join him in support.
This habit is known as "honor barking," and it's a dog's way to basically show another dog, "Hey, I got your back."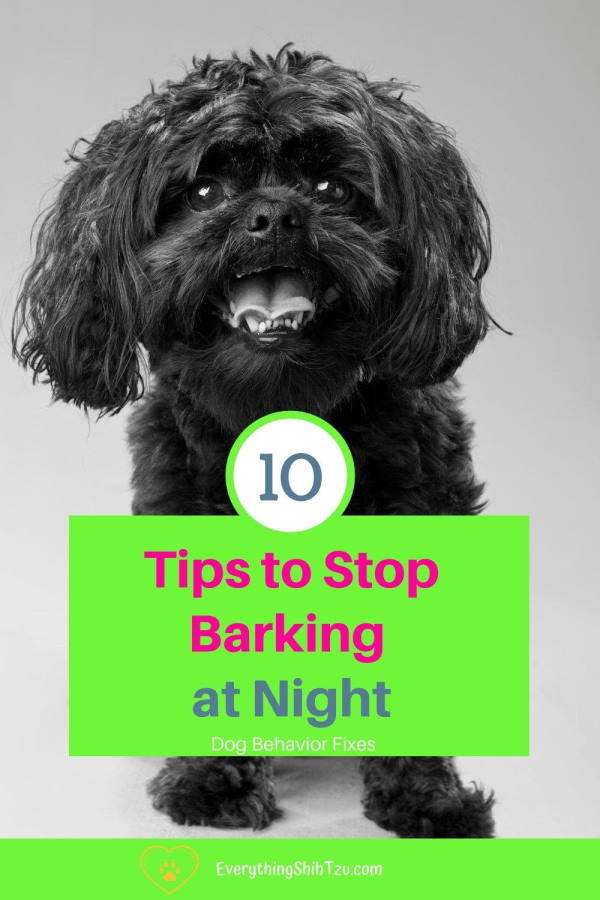 Should you consider de-Barking your dog?

If your dog's barking is bothering you so much that you are considering debarking as a solution, it is a better idea to find a new home for your pup.
Debarking is a procedure where tissue is removed from a dog's vocal cords so that the sound of its barking is greatly reduced.
This procedure cannot be reversed, limits the dog's natural ability to vocalize and many vets will not even perform it.
It's only included here, not as a viable option, but more as a "just in case you were wondering, here's why it's not a good idea."
Many vets consider it to be cruel, which is why they won't perform the operation, and the better solution is to hire a good behaviorist.

Again, if you have tried everything, or are unable to afford a skilled behaviorist to work with your dog, then the humane solution is to find someone who can do these things to take care of your Shih Tzu.
If you have honestly tried every single thing on this list 100 percent and to the best of your ability, and have consulted with your vet and a trainer, and yet your dog continues to bark all night, then maybe it is just not meant to be.
If you find yourself with the dilemma of a Shih Tzu that barks at night, then you don't need to lose hope.
You aren't automatically doomed to nights of burying your head underneath your pillow.
You just need to take the time to educate yourself on the various possibilities that could be causing your pooch's excessive communication.

Once you get a clear picture of why your pup is barking so much at night, you can spend time on the appropriate techniques to work with your Shih Tzu on reducing his nighttime vocals.
If all else fails, maybe this quote from the book Peaches for Father Francis by Joanne Harris will keep a smile on your face, when a boy in the story is asked if he could quiet his dog, he replies, "No, sir, Vlad's a believer in free speech."