10 Chew Toys Your Shih Tzu Will Actually Play With
WRITTEN BY STACY | EVERYTHINGSHIHTZU.COM

This post may contain affiliate links. Read privacy & disclosure policy for more info

Are you trying to figure out what chew toys your Shih Tzu will actually play with?

It's ironic, but even though Shih Tzu love to play, they can still get a little picky about their toys!
So why do they turn up their noses at some toys but can't stop playing with others?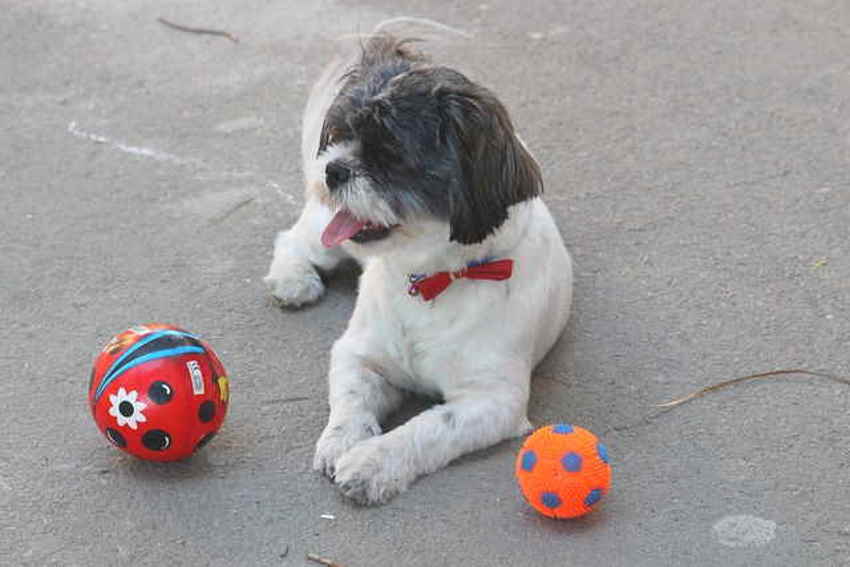 Here are 10 chew toys that your Shih Tzu will actually play with!

If your Shih Tzu has a favorite toy, then it might have already started to look overly loved.
She might love it so much in fact, that she won't seem interested in anything else, at first, but with some coaxing and time, she can soon find a new favorite.
Another option, of course, is to just buy an exact replica of her prized possession, but it won't have all of the exciting scents, chew marks and holes that are probably what make it so special to your pet!

1.  KONG

This toy offers a few different features to keep your pup entertained.

It's ultra-durable so it can satisfy your dog's chewing needs, and its interesting shape and rubber material give it an unpredictable bounce that encourages your Shih Tzu to play and bounce right along with it.
The KONG also offers a bit of interactive fun, with a hole at the bottom that allows you to place treats inside, or put some peanut butter in it to keep your dog engaged.
It comes in a variety of colors and sizes, from X-Small to XX-Large, so tiny puppies and big dogs can all join in the fun!

2.  KONG Wubba Ballistic Friend

When it comes to doggy play time, nothing seems to beat the classic games of fetch and tug-of-war.
The KONG Wubba Ballistic Friend toy offers your pup the opportunity to fetch, tug, chew, and play, with a cute design that comes in a variety of colors and sizes.
It's designed in a way that lets you toss it so it can bounce, or you can hold it as your pup tries to wrestle it from your grasp.
Whichever way you decide to play, your Shih Tzu is sure to enjoy this fun toy!

3.  Mammoth 3 Knot Dog Rope
These fun rope toys come in all different kinds of shapes and sizes and offer benefits beyond play time fun.
The rope fibers floss your dog's teeth while he chews, and they are durable so they can last for hours.
Since they are such a strong option for chewers, they are great to use as teething toys for puppies.
They are also a great option for games of fetch and tug-of-war, making them another versatile choice for your dog's toy arsenal.

4.  KONG Squeaker Balls
The squeaker ball is a classic that never goes out of style!
These squeaking tennis balls are designed to provide hours of fun for your pup and come in different sizes so that you can find the best fit for your canine pal.
As it bounces and rolls, it encourages your dog to run, providing needed exercise along with play!
Of course, it's also a great fetching toy and dogs can't resist that familiar squeak!
The felt on the tennis ball is different from regular tennis balls, so it is gentle on your dog's teeth and gums and won't cause any irritation.

5.  Multi-pet Lamb Chop Plush Toy
The classic and beloved character of Lamb Chop might stir up some happy memories for you, and it is certain to stir up hours of fun for your pup!
This cute plush toy version of TV's most famous lamb puppet offers opportunities for interactive play, fetch, chewing and cuddling!
The internal squeaker will drive your pup crazy -- in a good way -- although we can't say the same for you!
After a play session of chewing and fetching, your dog will love to snuggle up with Lamb Chop.
The plush toy makes the perfect pillow for your pup to rest her head upon after some active play time, and there are several sizes available.

6.  Zippypaws Burrow Squeaky Hide-and-Seek Plush

These hide-and-seek plush toys from Zippypaws come in an assortment of cute options, such as monkeys in a banana; aliens in a UFO; hedgehogs in a den; fish in an aquarium; pigs in a pen; squirrels in a log; and more!
Each set features three plush critters or items and their "home" in which you can hide them.
Your dog will have a blast sniffing and pawing and burying her nose inside as she tries to get the small plush free.
This is a great option for challenging, interactive play for small to medium sized dogs that will definitely keep boredom at bay!
The plush are machine washable, and you can even purchase the small plush on their own.

7.  Nina Ottoson by Outward Hound Dog Smart  Interactive Toy
Your dog loves to play and needs something to do.
A bored dog can end up with behavior issues that can cause quite the upset.
Interactive puzzle toys can provide hours of fun and stimulation for your pup and keep her from getting into mischief!
This entry level puzzle game encourages your dog to develop her problem-solving skills as she tries to uncover the various treats that you have hidden under the different bones.
Plus, each bone can be set at different levels so your dog can use a variety of techniques to uncover the goodies. 

8.  Pet Zone IQ Treat Ball
Let your pup work for her treats and have some fun at the same time!
The Pet Zone IQ Treat Ball lets you set the difficulty level so that your Shih Tzu can take on the challenge of getting to the tasty treats that you have placed inside of the ball.
Once you see that she is getting her yummy tidbits faster and faster, simply adjust the level to a higher challenge.
Not only will your dog be rewarded with treats, but she'll stay happy and healthy as she reaps the rewards of exercise and mental stimulation.
This ball is great for small to medium dogs, comes in different sizes and is easily disassembled for cleaning.

9.  Smart Pet Love Snuggle Puppy
Shih Tzu are affectionate animals by nature, and they love to spend time with their human family.
Sometimes, it just isn't possible for you to be there, though, and if you have an overly needy pup, she might experience some separation anxiety.
This is where toys like the Smart Pet Love Snuggle Puppy come in handy, because they are designed to help your dog handle stress and anxiety.
The plush pup provides the warmth and closeness that your Shih Tzu desires when she is stressed or lonely.
It even has a real-feel heartbeat and heat source, powered by AAA batteries (included).
This puppy pal can help reduce negative behaviors associated with anxiety, such as barking, and it's easy to clean!
If your pet is a big chewer, you may want to reconsider this toy, because the batteries could likely cause poisoning if your pet finds her way to them.
If she's not a big chewer, this toy will provide a lot of comfort.

10. Goughnuts Ring Dog Toy
If your Shih Tzu is an aggressive chewer, then the Goughnuts Ring Dog Toy is a must!
It is extremely durable and can hold its own in even the most extreme play sessions.
Your dog can chew for a long time on the natural rubber ring, and you can be sure that she is doing so safely thanks to the toy's unique dual-layer design.
The outer ring comes in a variety of colors, and the inner core is always red to signal that it's time for a new one.
Thanks to its rubber build, the Goughnuts ring is for more than just chewing, since it bounces and rolls for hours of play time fun.
It even floats, if your pup is into that, although Shih Tzu aren't known for their swimming skills.
The toy comes in different sizes and is easy to clean, so your pup can get right back to play time!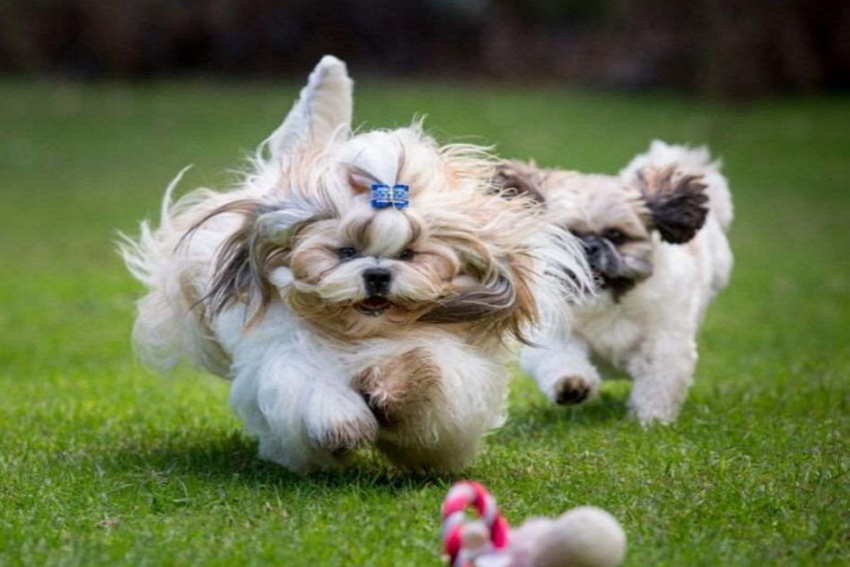 Why Chew Toys are so Important for Shih Tzu

Toys are an essential part of your doggy care supplies because they provide many benefits for your pup.
Toys can help dogs relieve boredom and stress, get adequate exercise and mental stimulation and even help to clean their teeth and gums.
Now dogs are bred mostly as companion pets, but originally, they were used for various jobs; pulling sleds, herding sheep, hunting, guarding, etc.
Now, even if their main purpose is to be man's best friend, dogs still need something to do.
A bored dog is a very unhappy dog, and dogs that have nothing to do will usually fill their time with less than desirable behaviors.
Since you won't always be at home, and you won't always be able to play with your Shih Tzu for hours on end, toys help to fill that gap.
Shih Tzu love to play, so having a variety of toys at their disposal is key to having a happy and healthy Shih Tzu.

What are the Different Types of Dog Toys?
Different toys have different benefits for dogs. Some toys are for teething, others are for interactive play, while others provide a sense of security.
It's important to provide your dog with a variety of toys, as opposed to nothing but teething bones, for example.

Chewing Toys
Chewing toys help dogs exercise their jaw muscles, satisfy their urge for chewing (so they don't use your furniture and shoes), and it also helps to clean their teeth and gums.
These toys can be nylon bones, rawhide, rope toys, rubber toys and more.
Many chew toys feature a chew-rating, so if your dog is a heavy chewer, you can choose a toy that is extra durable so that she can chew to her heart's content without destroying her toy.
Keep reading/see above for 10 of our best Shih Tzu chew toy recommendations!

Interactive Toys

Interactive toys are any toy that encourages your pup to challenge herself, provide mental stimulation and encourage your pup to utilize her problem-solving skills.
There are puzzle bones and treat balls that you can hide treats inside, so that your dog has to figure out a way to release them, and there are other toys that you can place smaller components inside for your dog to wrangle free.
Other interactive toys may make certain sounds, vibrate, roll on their own, or light up, and many of these toys are often good for training purposes.

Ball Toys

The classic ball toy! Perfect for a game of fetch.
Ball toys encourage your dog to get moving and run, so they are a great way to add some exercise into the day.
Since your pup will need you to toss the ball so that she can chase it, ball toys are also a great bonding toy or you and your pup.
If you want to challenge yourself, you can even teach your dog how to roll the ball, though this could take some time depending on your pup's trainability.
Then she can roll the ball and chase it, or the two of you can roll it back and forth for a fun game!

Plush Toys

Most plush toys are great for soft chewers that want to suckle more than chew, which helps relieve stress and anxiety.
Plush animals can be tossed around for a game of fetch, but they also offer a way for your dog to calm down.
Your dog can snuggle up with her favorite plush toy, rest her head on it, and plush toys can help her feel safe and secure.
Plush toys can also hold onto scents, so you can handle the toy and leave your scent on it so your pup can have a little bit of you nearby, even when you are away.

Playtime with Your Shih Tzu

Of course, no matter how many wonderful toys you get for your Shih Tzu, her most favorite thing to play with is going to be you!
Playtime with your pup offers a special time for bonding, as well as an opportunity to give your Shih Tzu the affection, and the attention that she craves.
Set aside time for a few short play sessions with your dog.
Time for play is essential because it not only offers time to bond with your Shih Tzu but provides needed exercise and mental stimulation.
The last thing you want is a bored dog. A bored dog equals a mischievous dog.
Play sessions can also be a good time to sneak in some training sessions with your pup and practice skills.
When you play with your Shih Tzu, vary the types of play.
Play chase, tug-of-war, throw a ball, use different toys, and keep it interesting and engaging.
Whenever your pup gets a new toy, make sure to stay observant as she plays so that you can make sure the toy is not ripping, broken or posing any potential safety hazards.
Overall, there are a ton of dog toys out there, the choices are almost endless, and they all offer their own benefits and ways to play.
So, if you are trying to find the best chew toys for your Shih Tzu, then give these ten toys a try!
After playing with a few of them, your canine pal is sure to find a favorite!
When your pup does find that perfect toy, don't be surprised if he wants to carry it around with him everywhere he goes.
In fact, save yourself the future headache, and once you realize your pup has picked his favorite, go buy a couple more just like it and store them up on the shelf.
This way, when toy number one completely wears down, you have the next one ready and don't have to worry about it no longer being available or out of stock.
For other toys, your pup might be super excited about it at first, but if it is the only toy that she has, she may soon get bored with it -- just like children.
A good option is to select a handful of toys that fill the different needs of your pup, and then rotate them out every few days so your pet always has something "new" to play with.
For more fun facts and tips about Shih Tzu, make sure to check out the rest of our blog!
We wish you many happy play sessions with your furry friend!