Best Wet Foods for Shih Tzu Puppies
BY MOLLY | EVERYTHINGSHIHTZU.COM

When you bring home a brand new Shih Tzu puppy, it may be one of the most fun and exciting things you can do.
Shih Tzu are super affectionate and playful companions that want nothing more than to love their people and be with their families.
But, bringing home a puppy means figuring out a lot of new things, like what to feed her. After all, every dog food is not created equal, and you want to find the best food for your Shih Tzu.
Below you'll find our top 10 picks for the best wet puppy food, but first, are you wondering if wet puppy food is better than dry puppy food?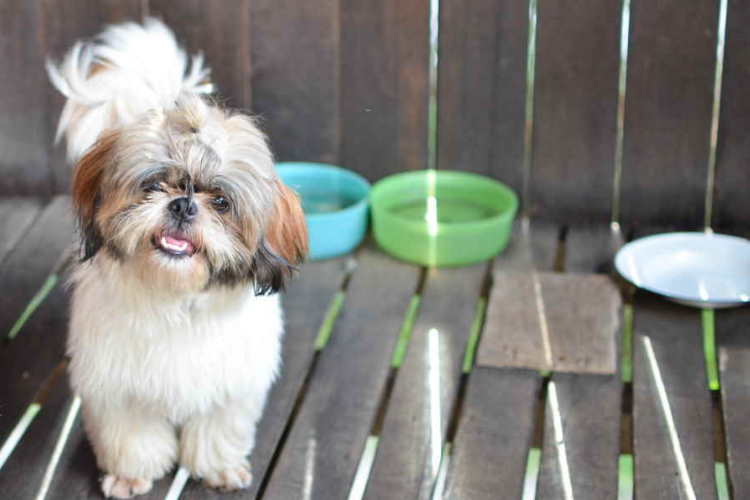 Benefits of Wet Dog Food Over Dry

Often, dry dog food seems to be the better option when it comes to choosing regular food for your pet's diet.
However, wet food has some perks, and many people will often use it to supplement their dog's diet or as an occasional treat.
If you've decided to go with wet food for your Shih Tzu puppy, there are a few benefits.

Wet food provides additional hydration. Thanks to its moisture content, dogs that may not be getting enough water can benefit from eating wet dog food.
If your pup is picky or not eating as much as she should, wet food might help her appetite. Dogs tend to love the smell, taste, and consistency of wet food. Therefore, even the pickiest of eaters will often chow down on it.
If your puppy is teething, losing puppy teeth, or just unable to chew dry dog food well, then wet food can be easier to handle.
What to Look for in a Wet Dog Food
When choosing wet dog food for your Shih Tzu, keep an eye out for the following:

Ensure that an animal protein is at the top of the ingredient list. This means that the bulk of your pup's food is made up of animal protein.
You also want to check that the protein in your Shih Tzu's food is specifically named. Ideally, you'll see something like "chicken" or "lamb" on the ingredient list instead of just "meat."
In addition to the high-protein, you also want to ensure that the food has a healthy mix of vegetables, fruits, and grains. This is because you want your pup to have a good ratio of complex carbohydrates, protein, fat, and vitamins and minerals, very much like human diets.
Stay away from foods containing meat or poultry "by-products," generic fat sources, artificial sweeteners, colors, and preservatives.
Most puppy foods are formulated to provide everything a growing puppy needs to develop into a healthy dog.
But with so many choices on the shelves these days it's hard to know which food to feed your puppy. 
We've narrowed it down to 10 brands that may help you make that decision.
Here are our top 10 wet puppy foods for your Shih Tzu

Some of these you can find on your grocery shelves, others you may have to go to specialty pet foods, or you can buy it online by clicking on the images (link to Amazon).
If you purchase a product through links on this page, We may receive a small commission at no extra cost to you. We only recommend products we have purchased or would purchase and which we believe would benefit you. To learn more please see my disclosure policy

Chicken Soup for the Soul Canned Puppy Food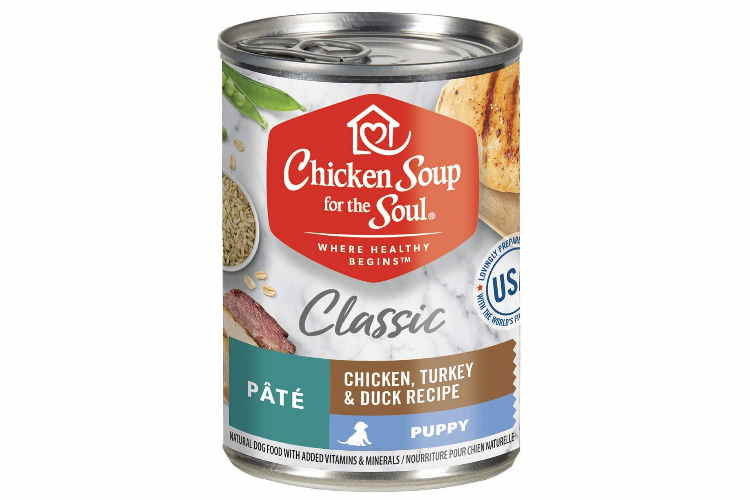 Proudly made in the USA, Chicken Soup For The Soul canned puppy food provides your Shih Tzu with complete, balanced nutrition and a taste they'll love.
The first ingredient is real chicken, plus turkey, duck, and salmon add to the appealing flavor.
There is no by-product meal or wheat, corn, or soy, and this food is made without artificial colors or flavors.
Instinct Original Grain-Free Wet Puppy Food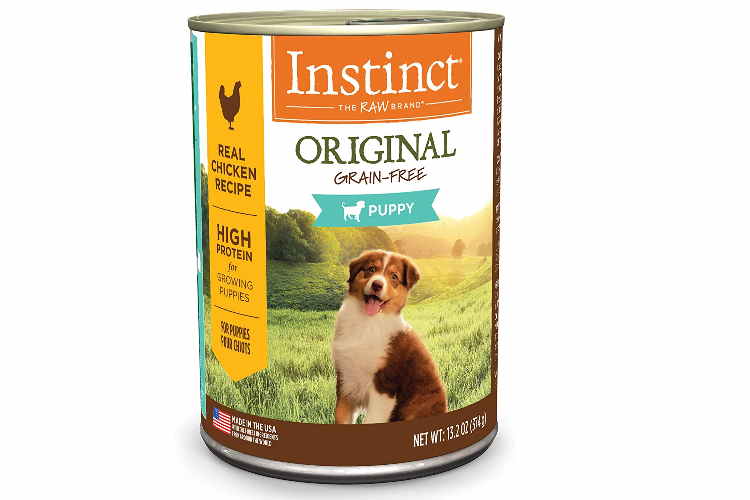 Featuring real chicken as the first ingredient, Instinct high-protein wet food contains natural DHA to help support your puppy's brain and eye development. It's also packed with healthy fruits and veggies, like peas, artichokes, pumpkin, and more. 
Plus, it is made in the USA with zero grains, potato, corn, wheat, or soy. There are also no artificial flavors, colors, or by-product meal.
Wellness Complete Health Just for Puppy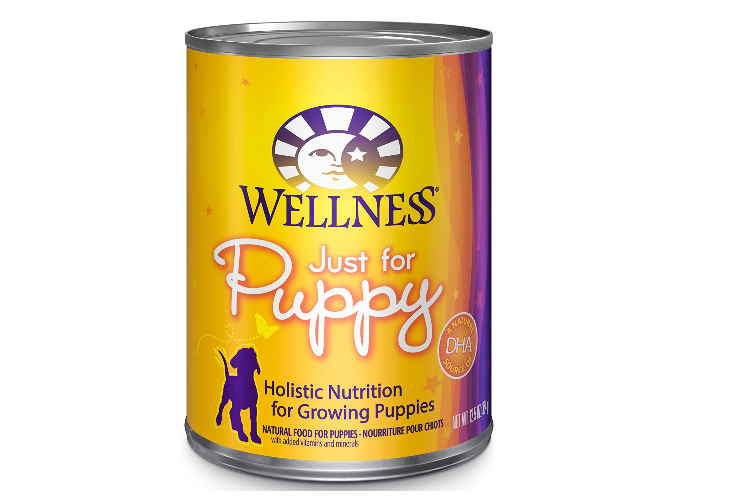 Wellness Puppy natural canned food is loaded with healthy veggies and protein that provides your Shih Tzu with total-body health.
Your dog will love the taste and texture, and you'll love the fact that this food supports your furry friend's immune system, energy levels, digestion and promotes a healthy coat and skin.

Natural Balance Original Ultra Puppy Formula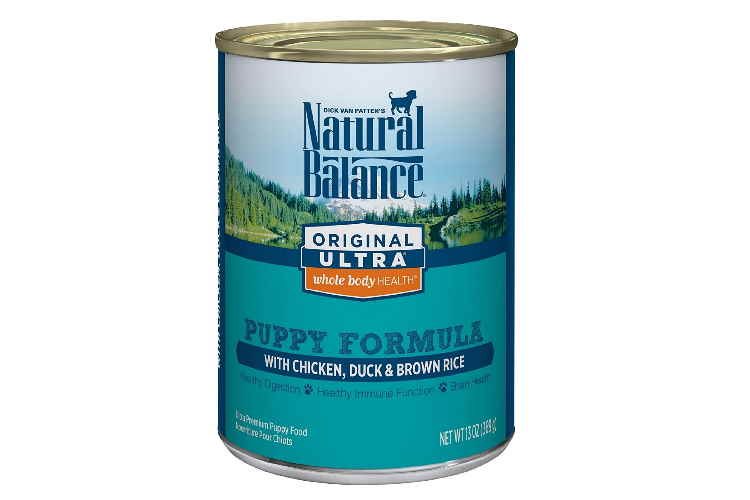 Natural Balance canned puppy food is specially designed puppy formula provides a gluten-free diet to your pup, featuring chicken, duck, and brown rice.
It contains extra nutrient-rich ingredients, like colostrum, Yucca Schidigera, antioxidants, and Vitamins A and B12, to help support your dog's immune system, digestion, and brain health.

Royal Canin Canned Puppy Food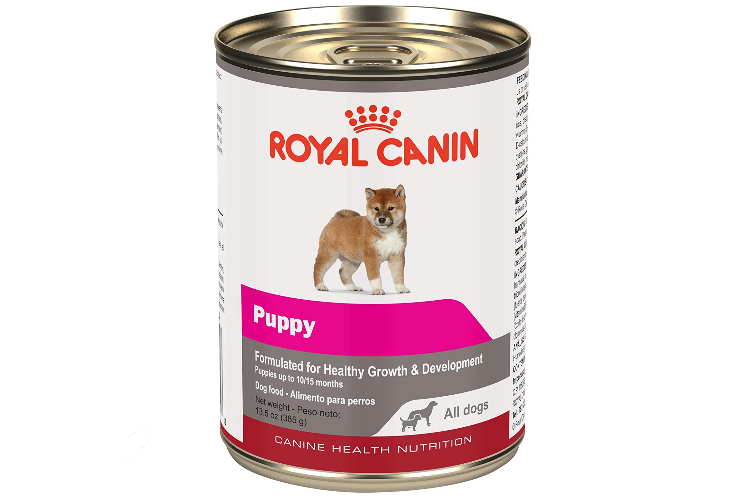 With Royal Canin Puppy Food you can give your Shih Tzu a balanced meal that they'll love with this nutrient-rich wet food featuring Vitamins C and E, taurine, and fish oil to help support your pup's developing immune system, digestion, and growth.
Your dog will get everything she needs, all in a delicious pate-style recipe.

Purina ONE SmartBlend Natural Puppy Dog Food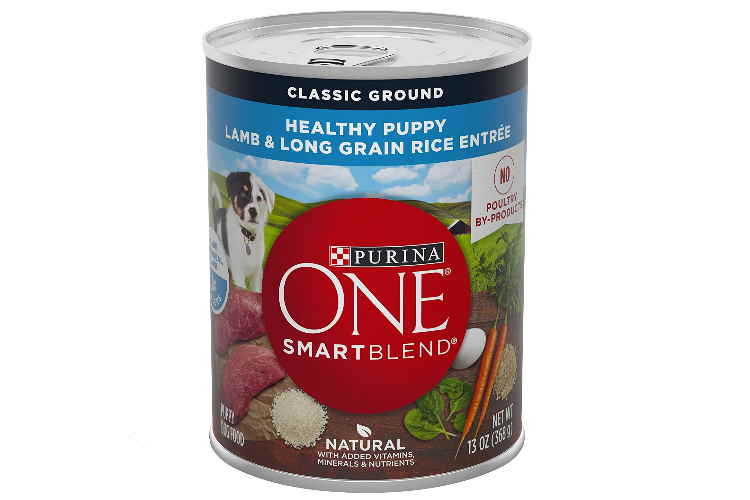 Purina One SmartBlend Puppy Food high-protein recipe features real lamb and serves it up in a ground loaf texture that is a breeze for your little puppy's mouth to handle.
It has everything your little pal needs as he's growing and developing, like DHA for brain and eye health and antioxidants for a healthy coat and skin. Plus, the high-protein content is ideal for supporting growing muscles.

Cesar Puppy Wet Dog Food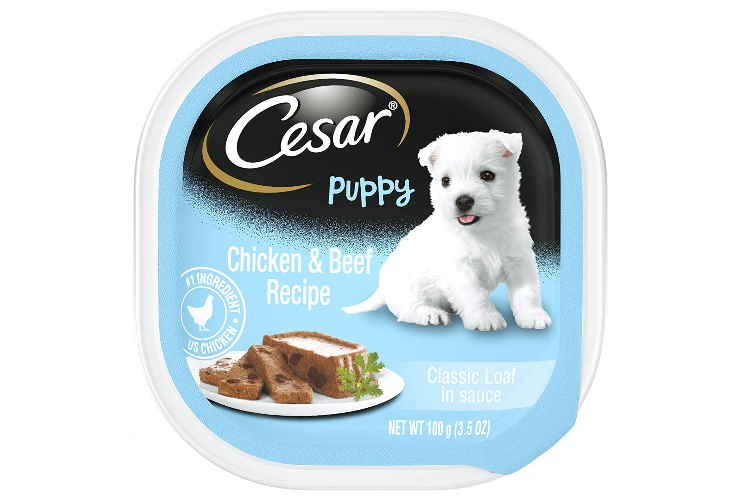 Available in different flavors, Cesars wet puppy food is formulated specifically for puppies and features extra vitamins and minerals that are perfect for small dogs. It offers excellent nutrition and taste, so it's sure to appeal to your pickiest eater.

BLUE Homestyle Recipe Puppy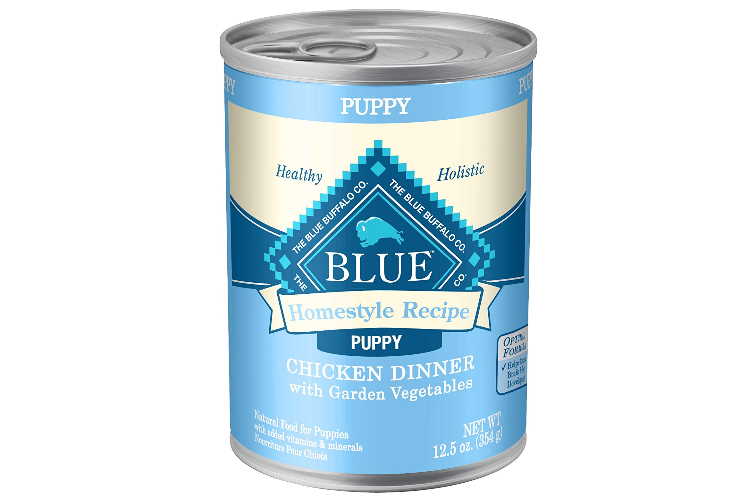 Blue Homestyle hearty puppy food contains deboned chicken as its primary ingredient, followed by a mix of yummy carrots, sweet potatoes, cranberries, and blueberries. Plus, there's no corn, wheat, or soy, which makes this food an excellent choice for pups with food allergies.

Hill's Science Diet Puppy Food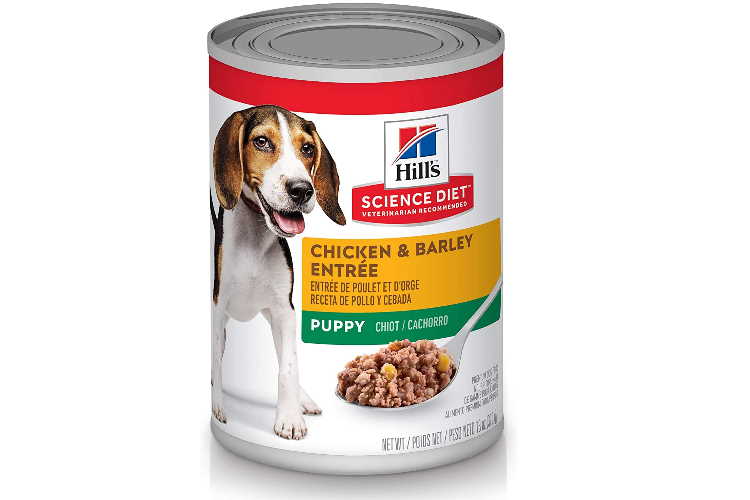 Your Shih Tzu will wag her tail with excitement when you serve her Hill's tasty and healthy puppy food that offers balanced nutrition and a delectable medley of chicken, veggies, and brown rice. The carefully selected ingredients help promote your pup's immune health, mobility, digestion and helps her maintain ideal body weight.

Nulo Freestyle Grain-Free Wet Puppy Food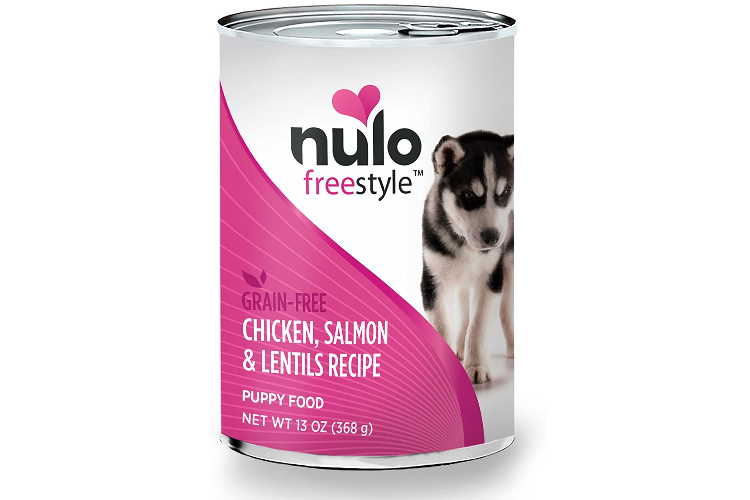 With real turkey, turkey liver, turkey broth, salmon broth, and cod and sweet potatoes, Nulo Freestyle wet puppy food is sure to please! It has everything your pup needs, without the stuff she doesn't, like corn, soy, and wheat. Extra nutrients like calcium, phosphorus, antioxidants, and DHA help promote your pup's brain and eye development, strong bones and teeth, and a healthy immune system. 

Is Wet or Dry Food Better for Puppies?

For a regular diet, dry food is often recommended over wet because it tends to have more nutrients and is better for your pup's teeth.
Dry dog food is also typically less expensive than wet dog food.
However, supplementing your pup's dry dog food with wet food can be a great compromise.
This way, your puppy gets a tasty meal and extra fluid intake. Plus, wet food is an excellent option for dogs that are struggling to chew hard food or perhaps are experiencing a loss of appetite.
When it comes down to what to feed your pup, every dog is unique.
Therefore, weigh your options carefully and go for what is best for your dog.
If you have doubts or are unsure about the best diet for your Shih Tzu puppy, consult your vet for some tips and advice on meeting your dog's nutritional needs in the best way possible. 
Posted 3/11/2021