Everything You Need to Know About Adopting a Shih Tzu
The simple guide to adopting one of the sweetest dogs

By Everything Shih Tzu, Updated August 05, 2022
Adopting a Shih Tzu is a great idea. They're loving and affectionate dogs that make great companions.
They also have a reputation for being good with children, so it's a perfect match if you have young kids at home as well!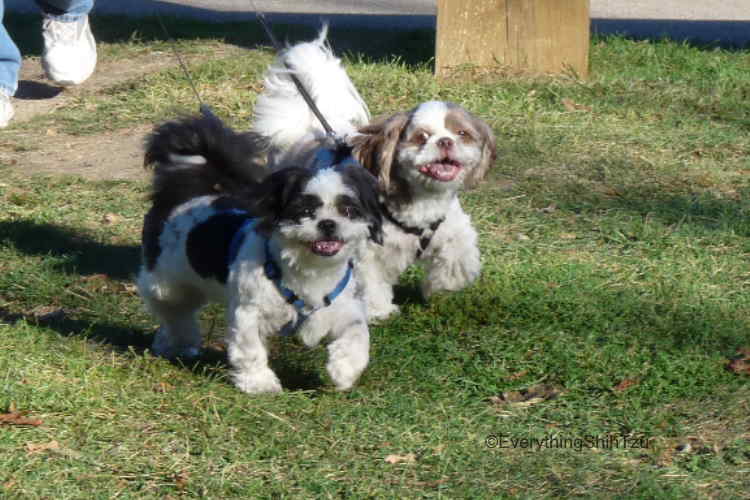 Rocky & Max, our adopted Shih Tzu
Adopting a dog is a big decision, and sometimes your choices are limited depending on where you look for your potential pooch.
If you know that you specifically want to adopt a Shih Tzu, then you need to be willing to stay patient until one becomes available at a shelter, or you may have to widen your search to other states.
Another possibility is to look into adopting from a Shih Tzu rescue.

Adopting a Shih Tzu is similar to adopting any other dog.  The biggest thing to consider when you are looking for a specific breed is that you either need to be extremely patient, extremely lucky or seek out a shelter or rescue that specializes in the breed of dog that you are looking for.
Although most of what you need to know to adopt a Shih Tzu is the same as what you need to know to adopt any dog, there are some special considerations to factor into your decision.
The biggest question is where do you go to find a Shih Tzu that you can adopt?
Not every animal shelter is going to have Shih Tzu available; what can you do if your local shelter is one of them?

Where Do You Begin When You Want to Adopt a Shih Tzu?

If you are set on adopting a Shih Tzu, you can always start at your local shelter, but as mentioned before, there is no guarantee that there will be any Shih Tzu available.
If you are even more specific with your needs, for example, you want a Shih Tzu puppy, than you are looking at even more of a possibility of not finding what you want.
Shelters do sometimes have waiting lists, so if you are not in a rush, you could always put your name down to be called if and when the shelter has a Shih Tzu up for adoption.
Another great way to find adoptable pets is by using Petfinder, which includes valuable resources and search tools to help you find exactly what kind of dog you are looking for.
You can search for pets using different variables including breed, age, coat length, size, gender, and color.
It even lets you narrow it down further by selecting dogs that are good with kids, cats, or other dogs, and also dogs that are already house-trained, or dogs that have special needs.
The search tool on Petfinder also has an option to select how many days the dog has been up for adoption, and if the dog is available from a shelter or a rescue.
When your search results come up, you will see a picture and the name of each pup, as well as how far away from you they are located.
You can click on any result to learn more about the individual pup.

4 Things You Need to Consider Before Adopting a Shih Tzu?
What you need in order to adopt a Shih Tzu is the same as what you need for any pup really.

You need to know for sure that you actually want to add a dog into your life.
You need to be able to afford the added costs and responsibilities that a new dog brings.
You need to have the necessary time to care for your new pooch.
You need to have anyone and everyone else that will be living in the house with the new furry addition on the same page when it comes to having a dog.

A few extra considerations for adopting a Shih Tzu are that this particular breed does require quite a bit of grooming, which means either more time on your part or more money if you are going to hire a professional to do the job.
Also, Shih Tzu love and crave lots of attention and adore spending time with the family, so keep this in mind if you have a very busy schedule, or you are not going to be home very often.

Where to Adopt? Are There Shih Tzu Rescues
In addition to your local shelter, and finding a dog through Petfinder, there is also the option of getting your canine companion from a Shih Tzu rescue.
You can learn more about Shih Tzu Rescue, a public charity, no-kill organization, here.
The site has information on adoption, as well as search tools, and once you've found your Shih Tzu you can fill out an adoption application online.
The process for adopting a dog through the rescue is:

Fill out the online application.

Meet with the dog or dogs.

Have a home check conducted and supply veterinary references (mandatory).

Sign an adoption contract.

Make a donation between $250 and $400.



All of the dogs that are adopted through the rescue are spayed/neutered, up to date on shots, heartworm tested, and micro-chipped.
A rescue is a good way to find a dog if you are looking for a specific breed.

How Do You Adopt a Dog Out of State?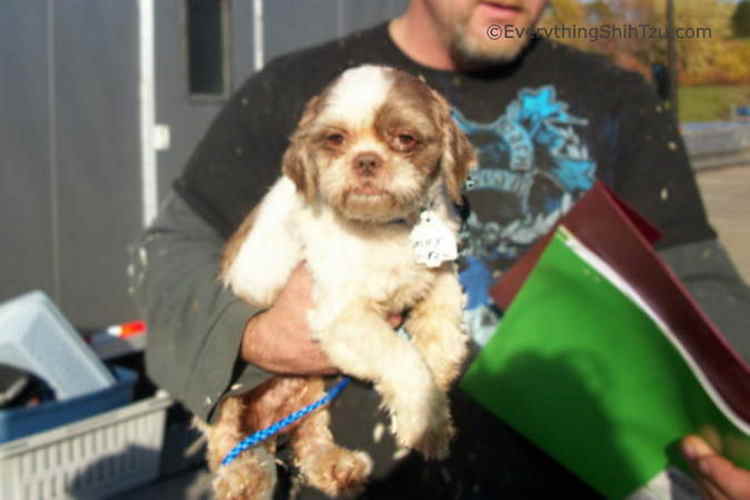 My baby boy Max on his adoption day
Your local shelter is usually the first choice when it comes to adopting a dog, but if you have specific things that you are looking for, don't be surprised if your search takes you out of state.
The dog of your dreams might be one state over, or it could be across the country, so you need to decide if you are going to go the extra mile, literally.
Adopting a dog from out of state is possible, but it is also more difficult.
This is because there are extra steps to consider.
Even though the dog is out of state, you still will be required to go through the adoption process, which often involves meeting the dog.
Be prepared to travel; that could mean a road trip, or it could mean your dog needs to travel by air.
If you need to get your pup on a plane, then that is a whole other layer of things that you need to consider.
Some dogs do very well with flying, while others get extremely nervous.
If you are unsure about going through the proper channels with adopting from out of state, you can consult with your vet, or local shelter, about different resources and agencies that specifically help relocate dogs from out of state to local shelters in order to be adopted.
Another consideration is that not all dogs are adoptable from out of state, for example, dogs that do not test heartworm negative, have an unpredictable temperament, or possess certain health issues may not be able to fly.
There is a chance that you can get these particular dogs by car, but you just need to be aware that it might not be possible to adopt any dog that you find.

What Should You Ask Before You Adopt a Dog?

Anytime you are about to make a big decision, you are going to have a lot of questions.
It's only natural that you should want to find out everything you can about adopting a dog since it is a life-changing event.
The following questions are featured in our post about "What Is Dog Adoption?"
We have included them here as well, for your convenience.
If you are considering adopting a dog, whether it is a Shih Tzu or a different breed, these are the questions you should ask:

Is the dog a good match for your house or apartment, or any other particular living arrangement?
How old is the dog? What is the breed or mix?
Does the dog get along with other dogs?
Is the dog good with kids?
Does the dog get along with cats?
How is the dog with strangers?
Does the dog remain calm in high-energy situations, or does it become anxious?
How much does the dog eat daily?
How much exercise does the dog require?
Does the dog have any special needs or medical conditions?
How long has the dog been at the shelter?
How did the dog end up at the shelter?
Is the dog up to date on all shots and heartworm prevention?
Has the dog been spayed or neutered, or will it be before adoption?
If the dog is a puppy, ask how big it is expected to get based on its breed or mix.
How much is the adoption fee?
How long of a trial period does the shelter offer? (More about this in the next section).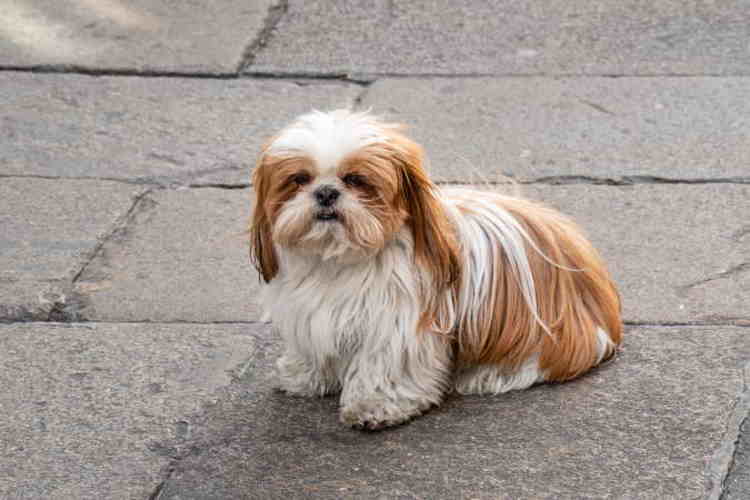 Adopting a Shih Tzu: Do's and Don'ts
What Are the Do's and Don'ts When Adopting a Dog?

Like everything in life, adopting a dog comes with several things you should do, and several things you should avoid.
It's always good practice to familiarize yourself with the do's and don'ts of any new thing that you do.
Therefore, when you're preparing for the adoption process, keep the following pointers in mind:

Don't rush into a relationship.

That is, don't jump at the first pup you see.  Even if the first dog you find in your search appears to be the perfect Shih Tzu, take your time.
It's really important to meet the dog in person.  

Do see how the first date goes first.
Although there may be some times where meeting Fido in person is not always possible, for example, adopting a dog from far away, you should make every effort to see the pup face to face.
This way you can see how the two of you interact and click.

Don't expect your new living arrangement to work out immediately
Shelters, and other facilities that handle pet adoptions, usually offer an adjustment period of a few weeks.
This is because they know adopting a dog is a big change for you, and most likely an even bigger one for your new Shih Tzu.
Give your pup some time to learn about her new environment, and to get used to how you do things.
Avoid making quick decisions about returning your pup early on in the adjustment period.

Do try to give your new roommate a chance for at least three weeks.
Make it a point to not make any decision within the first week.
Try to wait at least three weeks before you even consider returning your pet.
If there is absolutely no change during those three weeks, then perhaps this particular adoption is not meant to be, but the more likely scenario is you will start to see improvements -- as long as you have made an effort as well to help your Shih Tzu adjust.

Don't adopt a puppy if you don't have time or patience.
Who doesn't like a cute, little, cuddly puppy?  Puppies are adorable!
Puppies are also a lot of work, and they are very demanding of time and attention.
Be realistic when you're listing out the expectations of your new pet and how it will alter the way you live your life.
If you know you travel often, work all day long, and you already are short on time, then a puppy would not be the best option for you.

Do consider an older dog if your lifestyle is a bit more hectic.
Just because you lead a busy life doesn't mean you shouldn't get a dog; it just means that you need to be careful about the pet that you choose.
You may want to consider adopting an older dog rather than a puppy.
An older dog will likely not require as much playtime, already be house-trained, and be content to sleep for most of the day while you are away.
However, it's still important that when you come home you give your devoted pooch some much-deserved love and attention.

Don't skip the trip to your vet.
Most adopted dogs already go to their new homes with their first round of shots and have been heartworm tested.
If the dog has any special needs, the shelter probably will tell you about them, as long as these conditions have presented themselves.
However, this is not a substitute for bringing your new furry friend to your vet for a full check-up.

Do have your personal vet check out your pooch early on in the adjustment period.
Schedule a visit for your dog to meet with your vet as soon as possible.
Your vet can do a thorough health exam and look for any red flags that might signal potential issues.
If something is discovered that the shelter or rescue did not tell you about (either because they did not know or they did not disclose it) was not aware of, you can decide if you are willing to handle the time and money a dog with special needs requires, or if you will need to return the pup.
Remember, even if you really don't want to bring the dog back, if you honestly know you cannot properly care for them, then the best thing to do for the dog is to return them.
This way they have the chance to be adopted by a family that is able to handle its specialized care.

Don't give your dog the keys to the kingdom.
In other words, don't let your dog run the household because you think that will help him feel comfortable.
Your new pet is most likely very nervous and needs time to adjust, so rules can actually be helpful.
Therefore, don't let your dog think there are no expectations for him in his new home.

Do lay down the law from the start.
Your dog is not going to think you are being a tyrant.
In fact, your dog will welcome the fact that you have clear and consistent rules to follow.
You should also provide your dog his own designated place to sleep or retreat, this way he knows he always has a place where he can feel safe.

When you adopt a dog, consider these do's and don'ts so that you can have the best possibility of a successful relationship.
Any time you embark on a new adventure it can be a challenge, and dog adoption is no exception.
The best thing that you can do is to learn everything you can about the process so you can make well-informed decisions.
If you're getting ready to adopt a new Shih Tzu, make sure to check out the rest of our blog!
We have lots of great posts that are geared toward answering all of your questions about dog adoption.
Wishing you the very best for you and your new-found canine pal!