How To Find a Good Shih Tzu Dog Breeder
BY MOLLY | EVERYTHINGSHIHTZU.COM

If you're ready to add a Shih Tzu to your family, then there are several ways you can go about finding the perfect puppy. You can, of course, rescue or adopt a dog in need of a good home, or you can decide to purchase from a breeder.
If you're set on finding a purebred Shih Tzu from a breeder, it is important to know that all breeders are not created equal.
The best way to find a reputable breeder is through personal references. You can get recommendations from friends or family that you know have used the breeder or from your vet.
Plus, any breeder you consider should be more than willing to provide you with a list of references that you can check on your own.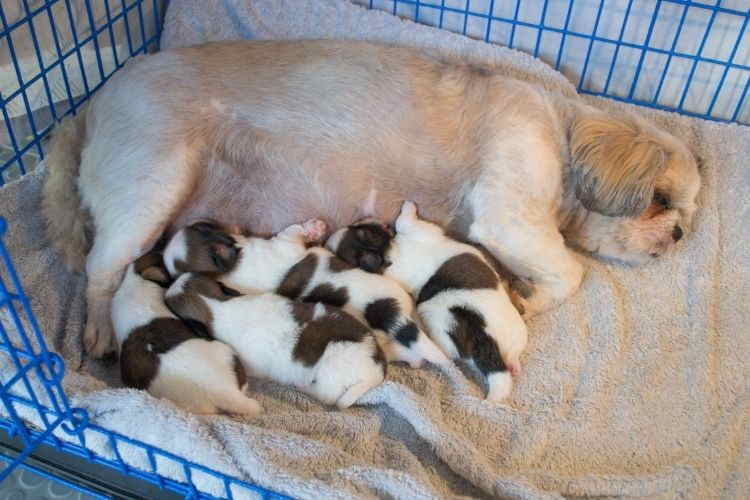 Of course, as you probably already know, getting your pup from a breeder is not the same as going to a pet store.

A good breeder should specialize in only one breed of dog, maybe two at the most, and a good breeder works with dogs because they love the breed, not to make a bunch of money.
When it comes to finding a reputable Shih Tzu dog breeder, there are several things you should consider.
What Are the Traits of a Good Shih Tzu Dog Breeder?
As mentioned before, you can start your search through friends or family who has used a breeder or ask your vet. You can also look for reputable breeders through the AKC (American Kennel Club) or UKC (United Kennel Club).
However, no matter where or how you find your breeder, you will want to ask many questions and take notes on several different points before you make your final decision to purchase your Shih Tzu.
Traits of a good dog breeder:

The breeder insists that you visit their home where the dogs are kept. This way you can view the puppy's environment and let you meet the pup's parent.
The breeder is forthcoming with all information, health concerns, and any other present issues with their dogs.
The breeder is organized and ready to provide you with all the paperwork concerning your pup's pedigree, health records, and other important statistics.
The breeder is willing and able to provide you with a list of references.
The breeder is in no rush to get your money and send the puppy home with you. In fact, a good breeder will even keep a puppy longer than the recommended six to eight weeks if they feel it is necessary and in the dog's best interest.
The breeder has a contract that they sign and ask you to do the same. This ensures that the puppy's needs will be met, and the breeder will make themselves available to you throughout your pup's lifetime. This means the breeder is willing to be on-hand to answer any questions that might arise over the coming years.
The breeder most likely shows their Shih Tzu dogs in competitive events.
The breeder most likely has another job or another source of income because they do not rely solely on breeding dogs to make money. In other words, a good breeder isn't in it for the cash.
Finally, the breeder answers any and all questions you have and do so in a thorough manner.
Just like a good breeder should be willing to answer all of your questions, a reputable breeder should have a lot of questions for you too.
Questions a Reputable Shih Tzu Breeder Will Ask You
When you meet with the breeder, be prepared to answer more questions than you probably ask, and know that a good breeder may very well turn you down if she feels you are not a good fit for the puppy.
Here are some of the questions you can expect to answer before being able to purchase your pup from a reputable dog breeder:
Why do you want a Shih Tzu?
Will you personally be responsible for the dog's care?
Where will the dog spend the majority of his time? Will he have company most of the time or be left alone?
Do you have expectations ready for your new pup so you can be clear from the beginning? Are all members of the household on board?
Have you already ensured that you are able to have a dog where you live?
Do you have other pets? (If so, the breeder will likely ask you for veterinary references)
Do you intend to train and groom the dog yourself or hire a professional?
Do you intend to show the dog? If not, then a breeder may include a clause in their contract that you will have the dog spayed or neutered.
Do you have the time necessary to adequately provide the required amount of attention your new pup will need?
In addition to these questions, a reputable breeder will also include a section in the contract that states you will return the Shih Tzu to them directly if you are unable to keep the dog for any reason.
This is because a good dog breeder always looks out for their all their pups and has the Shih Tzu's best interests at heart.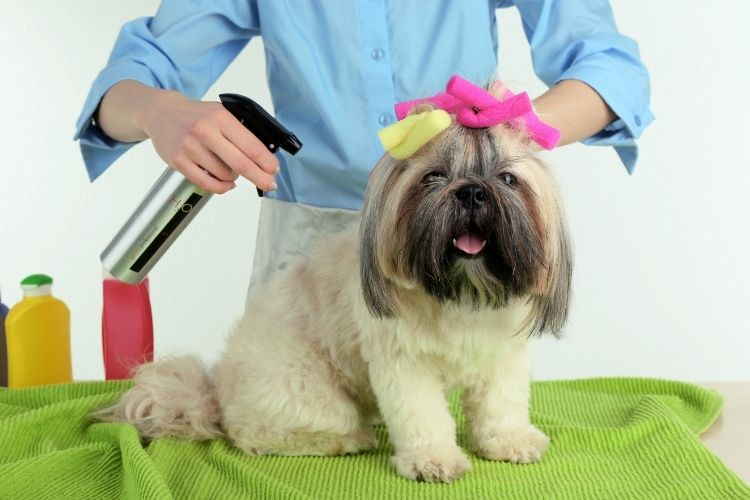 What To Expect When You Get a Shih Tzu Dog from a Breeder
Once you've found a reputable breeder, you should expect the process to take a little time.
The breeder will expect you to provide references and proof that you can have a dog where you live, for example, if you live in an apartment or condo.
Plus, a breeder may also ask for character references to determine if you possess the abilities and qualities of a responsible dog owner. 
Whenever possible, a legitimate breeder will also want to meet with you in person or at least have a phone conversation with you if you live out of state.
It is also preferred that you are able to meet with your potential new pup in person to make sure you are a good match for each other.
Depending on how picky you are about your new dog, you might be able to get your dog from a breeder within a few days if they happen to have what you are looking for.
However, keep in mind a reputable breeder does not have an endless supply of dogs, nor do they always have puppies available.
Therefore, you might need to wait for a while to get the puppy of your dreams, and the breeder will place you on a waitlist. 
If you want a puppy, remember that a good breeder should keep a puppy for at least 8 to 12 weeks before letting the puppy leave its mother.
During this time, you can continue to interview the breeder, meet the puppy, and start filling out any necessary paperwork.
Once you and the breeder have dotted all of the I's and crossed all the T's, you'll be able to bring your new Shih Tzu home.
The bonus of using a good Shih Tzu dog breeder is that you can always contact the breeder even after getting your pup home if you have any questions or concerns.