7 Incredible Ways Dogs Can Change the Lives of Senior Citizens

SEPTEMBER 7, 2018 | WRITTEN BY HOLLY
It's always said that dogs are man's best friend, and no matter your age, you can always benefit from having a dog in your life.
Seniors in particular often find that having a dog for companionship can completely change their day-to-day life for the better.

Photo by Tim Savage on Pexels
 According to Senior Guidance, dogs make the transition from working life to retirement much easier and more comfortable for seniors.

Here are 7 incredible ways that dogs can change the lives of senior citizens

Dogs provide companionship

Many seniors struggle with feeling lonely after transitioning into retirement living, particularly if they are used to living with family.

Dogs provide loving companionship that helps seniors feel supported and cared for on a daily basis.  Dogs develop a bond of unconditional love with their owners, and this unique friendship is something that is very special.

The companionship dogs provide can even prevent anxiety and depression that is brought on by feeling alone.  Many seniors struggle with these mental health issues as they transition into retirement, so having a dog around is a good way to mitigate them.

Dogs help seniors feel safe

For many seniors, transitioning into senior apartments can be intimidating, particularly if they aren't used to living alone.

Having a dog can provide seniors with a sense of protection and safety. Knowing that your dog will bark and potentially scare off an intruder can make nights easier for seniors living on their own.

Dogs provide seniors with a sense of responsibility

One of the biggest difficulties of the transition into retirement for many people is that they don't have the daily schedule and routine of work anymore.

Without this schedule, seniors are more likely to fall victim to depression and anxiety, and they could develop other health issues as well. Having a dog provides a senior with a sense of responsibility that can give them purpose and joy.

Dogs need to be fed and walked every day, and they need to maintain a set schedule to stay healthy. This sense of purpose is very fulfilling for seniors, and in many cases, seniors make great dog owners because they are able to devote so much time to caring for their pet.

Seniors can take real pride in the face that they are giving an animal a home and care that they otherwise wouldn't have, which is very satisfying.

Dogs help seniors stay active

Since dogs need to be walked every day, they help their owners stay active and get the exercise they need.

It's very important for seniors to exercise regularly for many reasons.  Not only does exercise help prevent weight gain and keep bones and muscles strong, but it also ensures that seniors get outside and get fresh air every day.  
This important change of scenery is very beneficial for seniors' mental health and can prevent memory care issues.

Walking a dog is typically very gentle exercise, so it provides just the right amount of physical challenge for seniors without being too strenuous.  Dogs also need playtime and interaction throughout the day, which is another way seniors can get in some gentle exercise.

Dogs provide an opportunity for social interaction

Dogs are very social animals, and since they need to spend time outside every day, they provide a lot of potential for social interaction for their owners as well.

Many seniors don't realize the importance of social interaction for their mental and emotional health in their daily lives.  Social interaction is very stimulating and can help seniors keep their moods even and positive.

When dogs interact with each other, it provides a natural opportunity for conversation that can eventually lead to friendship in many cases.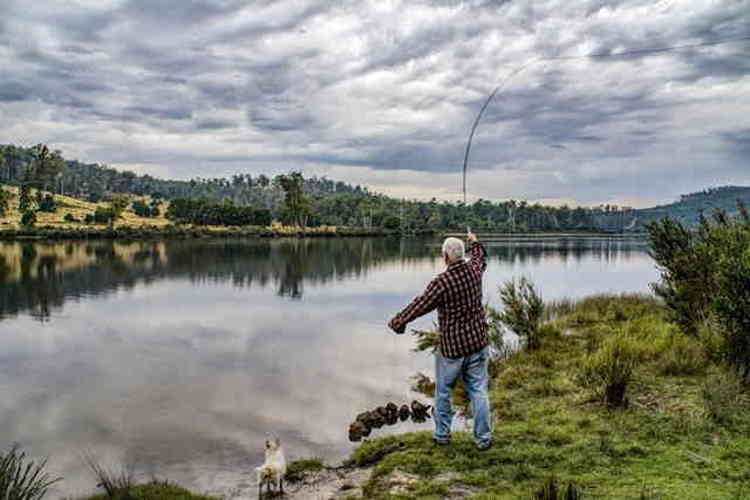 Photo by Kathryn Archibald from Pexels
How to Find The Perfect Dog for Your Senior

There are so many reasons to get a dog for the senior in your life, but it's important to make sure you find one that's a great fit.

In general, it's best for seniors to adopt an adult dog that doesn't have major health issues.  A puppy might be too much for a senior, but an elderly dog can be just as challenging.  It's important to find a happy medium.

Some breeds are better for seniors than others as well.

For example, many seniors prefer small dogs, because they do better in apartments and usually don't have quite as much energy.  However, there are some larger breeds of dogs that are very docile and affectionate if your senior prefers big dogs.

Keep in mind that every dog has a very unique and individual personality as well, so it's important to spend time interacting with the dog before making a final decision.

There are some other factors to keep in mind when shopping for a dog.  For example, many dogs require regular grooming, which can be challenging for some seniors to keep up with. Short-haired dogs are a good option in this case.

It's also important to note how much exercise the dog needs. Some seniors will love getting out and going on long walks with their dog, while others may only be able to handle a short walk each day.

Some seniors may not be equipped to have a dog of their own, but there are still ways they can interact with dogs, even if they are living in a memory care center or skilled nursing home.

There are many programs that bring dogs to seniors in need of companionship to brighten their day.  It's also helpful to look for assisted living with pets.
Some centers have community pets that seniors can care for together, which is an ideal way for seniors to spend time with dogs without being fully responsible for them.

There are also other centers that are pet friendly, so if a friend or family member has a dog, they can bring them in to visit. This is a good way for seniors to spend time with a dog in a safe, controlled environment.

Whether seniors adopt a new pet or just spend time with someone else's, dogs can be incredibly life-changing for seniors.

ABOUT THE AUTHOR:  Holly loves to write on issues related to seniors, aging and retirement. Holly is a frequent contributor on many blogs and websites that help provide comprehensive resources on senior living options.